Daihatsu upgrades Altis passenger vehicle
Aug. 01, 2022
Daihatsu Motor Co., Ltd.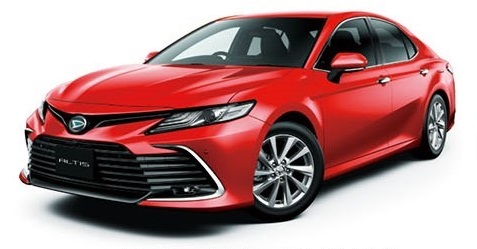 Altis G
Daihatsu Motor Co., Ltd. (hereinafter "Daihatsu") has upgraded its Altis passenger vehicle. The updated model goes on sale nationwide today, August 1, 2022.

The Altis was first launched as an OEM vehicle manufactured by Toyota Motor Corporation in March 2000. The upgrades include the addition of a new body color, Emotional Red III.*1.

Based on its "Light you up" approach, going forward, Daihatsu will continue to provide optimal mobility to every one of its customers, and cater to their needs via its extended range of mini and compact vehicles.
Manufacturer's Recommended Retail Prices (including consumption tax)
Grade
Engine displacement/System
Drive System
Price (yen)
Eco-car tax breaks
☆G
2.5L/THSⅡ※2
2WD
4,063,000
Tax exempt
E-Four※2
4,261,000
☆: Photos available
◎ Prices in the Hokkaido region are ¥22,000 higher (tax included) and do not include recycling costs.
◎ Prices are recommended retail prices and are intended for reference purposes only. Prices are independently set by sales companies; for further details, please visit your nearest sales company.
Insurance, taxes (excluding consumption tax), automobile recycling fees and fees associated with registration, etc. charged separately.
*1: The body color is available as a manufacturer's option.
*2: THS and E-Four are trademarks of Toyota Motor Corporation.