Quality Assurance Initiatives
Fundamental Approach
Quality at Daihatsu is not limited only to the quality of products and services but is made up of three pillars that include the quality of processes that give birth to products and services as well as the quality of the capability development system for employees that implement these processes. Daihatsu's quality assurance is positioned as an initiative that always places customer satisfaction and trust as the top priority and perpetually improves these three pillars of quality.
At the MONODUKURI1 worksites of manufacturing departments, each employee involved in the work takes responsibility for fully completing their own processes and thoroughly implements "own process completion" to ensure quality within their processes. At the beginning and end of meetings in which employees participate, we recite quality rules along with safety rules to raise awareness of quality on a regular basis. Back-office departments also take action to ensure quality in their own work based on the concept of own process completion.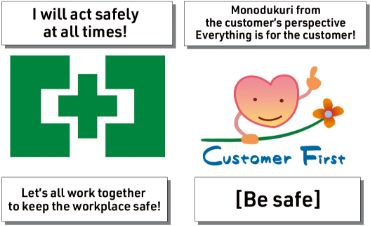 1. A concept for auto manufacturing embodying Daihatsu's unique value

Quality-related Structure
Brief quality meetings are held at the start of work every day at each plant, and managers and supervisors confirm the status of quality on a daily basis in an effort to maintain and control quality. In addition, plant quality meetings are held monthly to address improvement of manufacturing quality. The plant quality meetings, chaired by personnel responsible for quality control divisions, work with plant managers to check the details and status of measures taken to address quality issues that arise within processes or after shipment, defects in parts and materials supplied by business partners, and other issues to steadily improve quality. Quality assurance departments play a central role in analyzing post-shipment fault information received from markets, and major incidents are investigated by a body chaired by the general manager of the Quality Assurance Division and reviewed by an upper-level body chaired by the chief officer responsible for quality to determine whether a recall is needed.
Daihatsu focuses on developing quality-related human resources and established Quality Dojos at each plant as training forums to develop skills for enhancing quality. We are also training human resources who can support the future evolution of automobiles exemplified by CASE2 and are making further advances to our quality assurance structures.
2. An abbreviation for Connected, Autonomous, Shared/Service, Electric
Internal Audits
Daihatsu conducts internal audits at least once annually to reinforce quality assurance measures. Internal audits are conducted by identifying audit points and taking into consideration changes in internal and external environments and needs based on the concepts of international standards relating to quality management systems with the objective of improving the quality assurance measures of each department. PT Astra Daihatsu Motor (ADM), which is located in Indonesia and produces products for the Japanese market, also conducts audits equivalent to those performed in Japan.
Pursuing Quality in All Processes for the Benefit of Customers
To guarantee that the quality of products and services can satisfy and be trusted by customers as well as allow prolonged use, all process—from planning, design, purchasing, production, inspection, logistics, and sales to service—must come from the customers' perspective. The relationship between customers and cars starts from the time of purchase. It is an intimate part of customers' lives, including daily commutes, work, shopping, driving on off days, and leisure regardless of the time of the day, season, weather, and place. During this time, Daihatsu has many points of contact with customers to allow cars to be used for long periods of time, including vehicle inspection, servicing, and repair. Daihatsu collects information from all such scenarios involving customers and cars. Within each process, every employee thinks about customer expectations and joy and reflects their thinking in quality, and we treat this process with importance.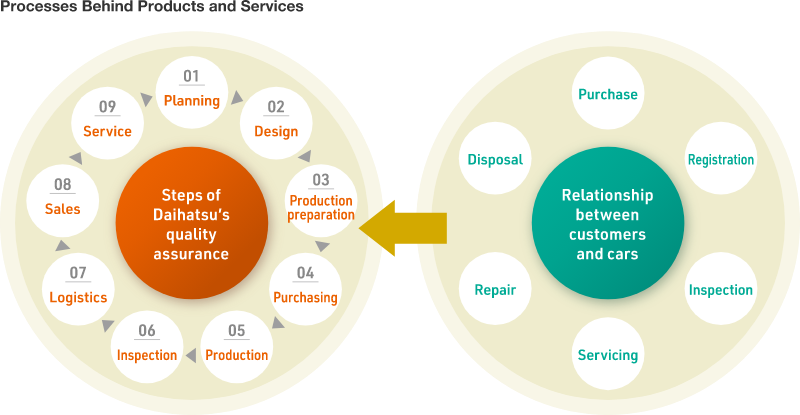 Planning and Design Initiatives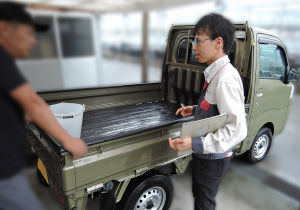 An engineer visiting a customer to confirm a problem
Daihatsu established the Quality Control Center (QCT) within the Mobility Development Group as a specialized organization to carry out improvement measures with a focus on quality in planning and design processes. Engineers assigned to the QCT examine all Field Technical Reports1 submitted on a daily basis and visit dealers and customers to personally confirm problems. They also investigate the causes and take countermeasures using our own analysis equipment and reflect the results in planning and design in a timely manner. Through these QCT initiatives, we are reinforcing early detection and early resolution (EDER2), comprehensively preventing the reoccurrence of problems, and disseminating knowledge obtained from the problems throughout the company to prevent other problems from occurring.

1. Reports on problems submitted by the maintenance divisions of dealers to the manufacturer
2. Detecting and resolving quality-related issues at an early stage and promptly providing feedback on the results of improvements to customers
Purchasing Initiatives
When purchasing parts, equipment, and other goods, Daihatsu appropriately assesses and manages suppliers and works to maintain and enhance quality in accordance with the internal Parts Supplier Assessment and Management Guidelines as well as the Management and Assessment Guidelines for Suppliers of Equipment, Main and Sub Materials. Purchasing personnel investigate the management status, technical capabilities, and quality control structures of supplier candidates and, when necessary, conduct inspections to determine whether transactions are successful. In the case of existing suppliers, we annually conduct continuing evaluations of all suppliers with which we did business during the fiscal year to assess quality, safety, and other factors, and an internal review board decides whether transactions should be continued. In addition, the Quality Assurance Division and plant quality sections of the Vehicle Quality Control Division examine the manufacturing processes of suppliers on a regular basis, plan and implement quality improvements in cooperation with suppliers.
Production Initiatives
(Including Production Preparation)
Intranet screen displayed when starting up a company PC when Daihatsu was ranked highest overall in the J.D. Power 2022 brand awards
To maintain and control quality in manufacturing processes, Daihatsu employs Internet of Things (IoT)* technology to manage workmanship and quality-related trends and ensures stable quality. We also continuously monitor changes in the number of defects from the previous day and work to identify problems as early as possible and make improvements. Design, purchasing, and quality control divisions confirm that parts procured from business partners satisfy our quality standards and decide whether mass production can commence. We also obtain data from business partners on a daily basis to confirm the workmanship of parts and request improvements as necessary to maintain and enhance quality. By using traceability measures to link supplied parts with individual vehicles, we have created mechanisms and structures to provide prompt feedback to plants regarding manufacturing-related quality issues identified from market information. These quality-related initiatives implemented by Daihatsu have been highly evaluated within the Toyota Group, and we have received the Quality Control Excellence Award and other Toyota Quality Improvement Initiative Awards.

* A mechanism for the exchange of information over the Internet by devices, equipment, and so on that in the past were not connected to the Internet
Inspection Initiatives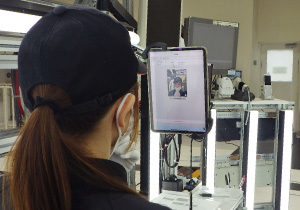 We guarantee rigorous inspections by maintaining individual inspection results for each vehicle as well as the work histories of inspectors, who are registered using 3D facial data
Daihatsu strives to enhance the quality of completed vehicle inspections performed at production plants in accordance with our duties as an automaker under the Road Transport Vehicle Act. One initiative unique to Daihatsu is the introduction of a system at all plants that uses facial recognition technology to prevent any personnel other than qualified inspectors from performing inspections. Specifically, the facial information of qualified inspectors who are registered at the start of work is compared with a facial image of the worker who actually performs the inspection, preventing workers without qualifications from performing completed vehicle inspections. In addition, after the completed vehicle inspection data is input into the system, there is a function that locks the data so that it cannot be modified, preventing fraud such as data falsification.
Logistics Initiatives
In order to guarantee the safety and quality of every Daihatsu-vehicle delivery from our plants to dealers, we at Daihatsu have implemented our own standard operating procedures for logistics. Additionally, we have put in place comprehensive manuals that provide instructions on how to respond to disasters or accidents, as well as detailed regulations for handling vehicles within logistics yards. By ensuring that all workers involved in completed vehicle logistics adhere to these procedures, we maintain and manage the quality of our vehicles.
Sales and Service Initiatives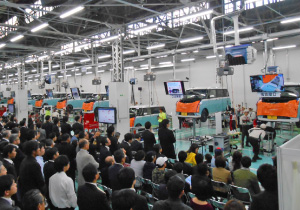 The Daihatsu Service Skill Contest
We make particular efforts at the Daihatsu Sales Training Center to develop human resources who can provide high-quality product information and after-sales service to customers. We also periodically conduct the "Daihatsu Service Skill Contest" for mechanics working at Daihatsu sales companies nationwide to train excellent mechanics by refining their skills regarding fault diagnosis, maintenance, sheet metal work, painting, and producing estimates in an effort to enhance customer service.
Employee Training on Quality
To develop human resources, revitalize workplaces, and enhance work quality for the practice of customer first, Daihatsu conducts quality control (QC) activities including rank-specific training on quality in collaboration with Group companies, sales companies, and business partners. As part of these activities, we organize the All-Daihatsu QC Circle Convention and All-Daihatsu TQM Convention each year. At the All-Daihatsu QC Circle Convention, the results of quality improvement activities are presented even as the conference is expanding in scale into a global event including the participation of circles from production bases in Malaysia and Indonesia. In addition, circles that achieved excellent results further improve their abilities by actively participating and competing at the QC conferences organized by the Union of Japanese Scientists and Engineers. At the All-Daihatsu TQM Convention, we seek to improve management quality and revitalize workplace culture by sharing information on management issues during a "time of once-in-a-century transformation" through presentations conducted by executives and managers.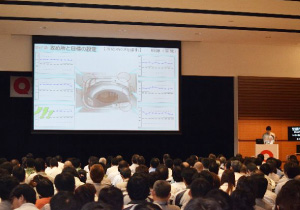 All-Daihatsu TQM Convention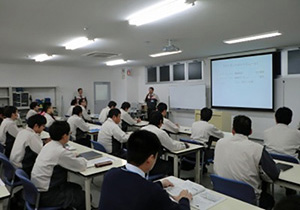 Quality education
List of quality education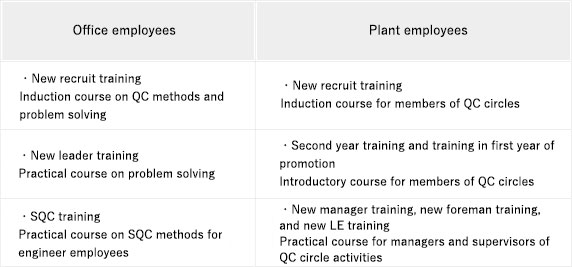 For Customers
Customer Feedback Mechanism
Daihatsu conducts surveys of customers who purchased Daihatsu vehicles in an effort to ascertain various information concerning vehicles, sales personnel, dealers, and more. During the COVID-19 pandemic, we collect customer opinions using online communications tools. We also continuously collect opinions from dealers who handle Daihatsu vehicles and use that information to improve our vehicles.
Responses to Quality Defects (Recalls, etc.)
Giving top priority to the safe and reliable use of cars, when a defect occurs in vehicles and a recall is determined to be necessary, Daihatsu issues notifications in accordance with the laws and regulations of the respective countries, and at the same time, promptly contacts customers of the affected vehicles to notify them to obtain free repairs. We also immediately post recall information on our website. We report to the authorities regarding the progress of recalls and other information as necessary.
Customer Assistance Center
We receive inquiries from customers at the Daihatsu Customer Call Center and respond based on the details of each inquiry by providing information, answering questions, and so on. The Daihatsu Customer Call Center has systems in place to respond to inquiries by telephone, email, or chatbot. Information concerning requests received from customers is forwarded to the relevant departments and reflected in product and service improvements.