Products & Technology
News release
NEW

Dec. 17, 2007
Daihatsu Launches Fully Redesigned Mini Vehicle TANTO
Dec. 17, 2007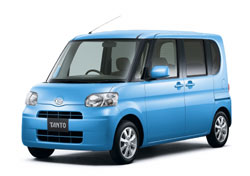 TANTO X Limited Special 2WD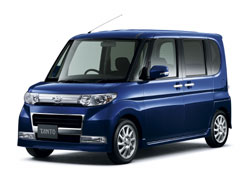 TANTO CUSTOM RS 2WD
DAIHATSU MOTOR CO., LTD. (Daihatsu) announced the nationwide launch in Japan of the fully redesigned mini vehicle TANTO1 on December 17.

The TANTO was created in November 2003 as a vehicle with surprising roominess for its size and one that is fun for the entire family. The TANTO gained support among drivers with children for its spaciousness and convenience and pioneered a new mini vehicle genre. Sales have been extremely good, averaging about 8,000 vehicles per month.

The current redesign seeks to transform the surprisingly expansive interior into a highly inspiring space. In addition to enhancing core performance attributes such as high safety performance and excellent fuel efficiency, Daihatsu achieved three significant advances in the unreserved pursuit of the TANTO DNA—expansiveness and convenience:
The surprising expansive interior was evolved even further to achieve an exceptionally large space, the largest of any mini vehicle.2
The center pillar was removed and a powered sliding door installed (world's first on a mini vehicle3) to create a amazing feeling of openness and provide for extreme ease of boarding and exiting.
Extraordinary utility was created through outstanding convenience in a wide variety of situations in response to calls from mothers with young children.
Two models with unique characteristics are available: the TANTO, which maximizes functional value for families with children that enjoy spending time together, and the TANTO CUSTOM, which seeks aesthetic value that is sure to the captivate the sensibilities of both men and women who place an emphasis on individuality.
The new models also offer the following features:
The interior and exterior designs of both the TANTO and TANTO CUSTOM have been uniquely coordinated.
The TANTO has been completely updated, including the platform and the engine, and safety, driving and environmental performance have been further enhanced.