Daihatsu Receives the Japan Society of Mechanical Engineers Medal for New Technology for High Efficiency and Low Cost, New 1.2L 3-cylinder Engine
~Higher Engine Efficiency Reduces CO2 with a Maximum Thermal Efficiency of 40%~
Mar. 02, 2023
Daihatsu Motor Co., Ltd.
Daihatsu Motor Co., Ltd. (hereinafter "Daihatsu") has been awarded the Japan Society of Mechanical Engineers Medal for New Technology 2022 from The Japan Society of Mechanical Engineers for its high efficiency and low cost, new 1.2L 3-cylinder engine (WA-VE/WA-VEX engine). The award was established in 1958 and is given annually to outstanding technical achievements and technologies to encourage the development of mechanical engineering and industry.
This is the first time in two years that Daihatsu received this award since receiving it in 2020 for the development of new generation split drive CVT.
Awarded Accomplishments
High efficiency and low cost, new 1.2L 3-cylinder engine
Award Winners
・Soichiro Okudaira
・Koichi Yorizane
・Hidetomo Horikawa
・Shinya Takedomi
Overview
Daihatsu is advancing the electrification of automobiles to realize carbon neutrality as early as possible, and the development of low-cost and highly efficient engines is urgently needed for electrification to become widespread in the world.

To solve this issue, the company has thoroughly explored engine design qualities and developed a highly efficient and compact engine with a minimum of variable mechanisms. Mainly, a high-tumble straight port (see Fig. 1) with a shape that maximizes the opening between the intake valve and the valve seat improves high-speed combustion and knock resistance, and a compact combustion chamber has been achieved. Also, the dual-port, low-penetration atomizing system (see Fig. 2) designed to introduce injected fuel into the throat of the port on the intake airflow, and the unique two-passage cooling system (see Fig. 3), which incorporates a first passage that constantly flows into the cylinder block and a second passage that can be switched by the thermostat, reduce unburned fuel loss. As a result, both engine and hybrid vehicles achieve excellent fuel efficiency (maximum thermal efficiency of 40% for hybrids) and reduce CO2 emissions.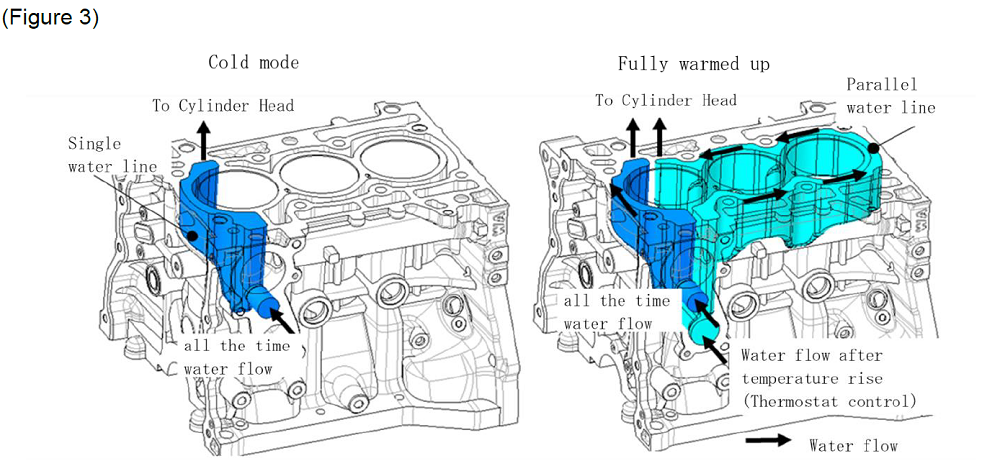 Daihatsu will continue to pursue the realization of carbon neutrality by 2050 through further pursuit of fuel-efficient technologies.