Overseas
NEW

Nov. 24, 2009
Daihatsu Begins Sales of the New Compact Car ALZA in Malaysia
Nov. 24, 2009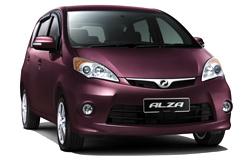 ALZA
DAIHATSU MOTOR CO., LTD. (Daihatsu) announced today that it has, together with Perusahaan Otomobil Kedua Sdn Bhd (Perodua) its Malaysian automobile production and sales joint venture company located in Selangor, Malaysia, begun sales of a new compact car, the ALZA. An event to mark the launch of the ALZA was held in Kuala Lumpur in the evening of November 23.
The ALZA, based on the compact passenger vehicle Boon Luminas in Japan, was developed under an R&D project led by Perodua to meet the diversifying needs and higher demand for compact cars in the Malaysian market, targeting the MPV and 3-box segments that are not fully covered by the Myvi and Viva alone. The monthly sales target is 3,500 units and the manufacturer's suggested retail prices range between RM56,000 and RM64,000 (approximately 1.45 to 1.66 million yen).
The ALZA offers the following features:
A stylish, streamlined body design
The combination of a compact body with a roomy interior
Three rows of seats with a flexible layout
Grades
Engine Capacity
Transmission
Capacity
Retail Prices (yen*)
*RM1=JPY26
EZi
3SZ-VE
1,495cc
Water cooled,
in-line, 4-cylinder,
16-valve DOHC
E 4AT
Seven
passengers
Approx. 1,660,000
SXi
5MT
Approx. 1,580,000
EZ
E 4AT
Approx. 1,530,000
SX
5MT
Approx. 1,450,000
Origin of the ALZA name
The "ALZA" vehicle name is based on the Spanish word "alzar," which means to raise, boost, or lift, thus designating a vehicle that "enhances your lifestyle."

Perodua is Malaysia's second national auto manufacturer and has expanded its product lineup, with a focus on compact cars. With the cooperation of the Malaysian government, Perodua has worked to raise its cost competitiveness and enhance quality, as well as that of its suppliers, and has expanded its business also through production of the Avanza under contract from Toyota Motor Corporation and exported the Myvi to Indonesia.
Note: Perodua is an abbreviation of Perusahaan Otomobil Kedua Sdn. Bhd., the shared name of joint venture holding companies, production companies, and sales companies within the Group. Within the Group, three manufacturing-related companies - Perodua Auto Corporation Sdn Bhd (PCSB), a manufacturing holding company, Perodua Manufacturing Sdn Bhd (PMSB), a vehicle body manufacturing company, and Perodua Engine Manufacturing Sdn Bhd (PEMSB), an engine manufacturing company - are Daihatsu subsidiaries.