Overseas
NEW

Feb. 27, 2009
Daihatsu launches the New Multi-purpose Vehicle Luxio in Indonesia
Feb. 27, 2009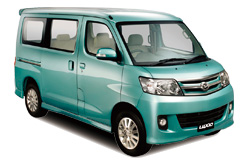 Luxio
DAIHATSU MOTOR CO., LTD. (Daihatsu) yesterday announced the launch of a new compact multi-purpose vehicle, the Luxio, in Indonesia. An event to mark the launch of the new vehicle was held in Jakarta on the evening of February 26.

The new Luxio is designed to attract consumers who value spaciousness and prestige, and are looking to move to more advanced vehicles. Daihatsu aims to expand the market by responding to the increasing demand in Indonesia for multi-purpose vehicles and meeting various customer needs.

The Luxio will be produced at Daihatsu's Indonesian manufacturing base, Astra Daihatsu Motor, and will be sold by Astra International.

The monthly sales target is 1,000 units and the manufacturer's suggested retail prices range between 136 million and 165 million rupiah (approximately 1.10 to 1.34 million yen).
The new Luxio offers the following features:

A unique and highly refined design that establishes a powerful presence
A highly spacious interior, and a low floor
Rear sliding doors that facilitate easy opening and closing and ease of boarding and exiting
Versatile seat arrangements made possible by the spacious interior
1.5L DOHC VVT-i engine that achieves both strong driving performance and excellent fuel efficiency