Products & Technology
News release
NEW

Oct. 09, 2007
Daihatsu to Exhibit OFC-1 Open Sports Car, New Tanto,New Tanto CUSTOM and other vehicles at Tokyo Motor Show
Oct. 09, 2007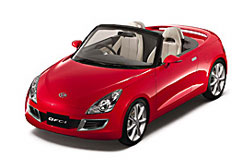 OFC-1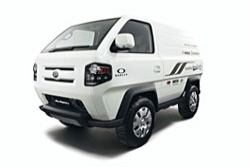 MUD MASTER-C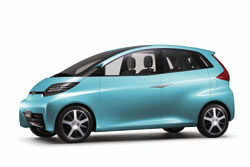 HSC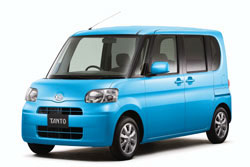 New Tanto
Tokyo — DAIHATSU MOTOR CO., LTD. (Daihatsu) plans to exhibit four concepts (six cars, including model variations) and six production vehicles along with new technologies at the 40th Tokyo Motor Show (Oct. 27 — Nov. 11) at the Makuhari Messe (Nippon Convention Center) in Chiba Prefecture, near Tokyo, Japan.

On the occasion of Daihatsu's 100th anniversary, the Daihatsu Group has adopted the new slogan "Innovation for Tomorrow", which will serve as the overall theme for this Tokyo Motor Show, expressing Daihatsu's commitment to innovative car manufacturing that seeks to bring out the small car's potential for fun, environmental friendliness, and spaciousness.

Concept cars to be exhibited include the OFC-1 "Open Future Concept" sports car mini vehicle, spotlighting the fun potential of small cars; the MUD MASTER-C, which leverages compactness and light weight for high off-road agility and adopts body-on-frame construction for outstanding durability and cargo capability; the HSC (Heart & Smile Concept), a new direction in earth-friendly, human-friendly small-car design; and the New Tanto and New Tanto CUSTOM, which demonstrate the evolutionary possibilities for greater spaciousness and convenience of the Daihatsu Tanto, which pioneered a new mini vehicle genre. Daihatsu will also exhibit its advanced technologies.
Concept cars
1. OFC-1 (Open Future Concept-1)

Combining real driving exhilaration with the freedom to enjoy an open-air feeling regardless of the weather, tomorrow's open sports mini vehicle goes all the way for small car fun.
A powered canopy top with glass roof offers a panoramic view even when the roof is closed.
The glass roof has a built-in LCD sunshade that can be switched between transparent and opaque at a touch.
The functionally beautiful instrument panel and high-contrast interior color scheme create a sporty image that is advanced and refined.
The roof's 3-segment construction stores compactly, leaving trunk space for the overnight luggage of two adults, even when the top is open.
For exhilarating driving and excellent fuel economy, the OSC-1 powertrain combines a smoothly responsive engine and CVT equipped with 7-speed paddle shifters. It also features an electronically controlled suspension and 17-inch aluminum sports wheels.
2. MUD MASTER-C (Mud Master-Concept)

This small, tough transporter leverages compactness and light weight for special off-road agility and adopts body-on-frame construction for outstanding durability and cargo capability. This mountain bike support model was designed in collaboration with the leading professional cyclist, Raita Suzuki.
A hub reduction system, which transfers driving power via gears mounted between the drive shaft and wheel hub, together with large-diameter 16-inch off-road tires, achieves 370mm ride height and generous angles of approach, departure and breakover for outstanding off-road drivability and stream-fording capability.
The body uses highly durable, lightweight and compact body-on-frame construction. A range of attachments can be combined for a variety of applications, from outdoor sports to work in rough terrain.
Large gullwing doors on three sides give the MUD MASTER-C great convenience, ideal for loading and unloading bicycles in the "mountain bike support" model.
Full-cabin styling creates a strong presence.
The interior features a simple instrument panel with large-screen LCD multi-display and the water-repellent seats, reflecting the car's rugged image.
3. HSC (Heart & Smile Concept)

A fresh proposal for a people-friendly, earth-friendly small car, the "Heart & Smile Concept" seeks environmental friendliness using realistic technologies, while seating four adults in comfort. The package also emphasizes high safety performance and convenience.
Center-pillarless construction and center-opening doors create a wide entrance and the doorframe is continuous with the flat floor, making it easy for anyone to get in and out.
A practical powertrain attains 33km/L fuel economy, thanks to engine improvements, including reduced friction and raised combustion efficiency, along with a CVT with low mechanical loss and an idling-stop system, as well as an aerodynamic design with Cd of 0.28*.
High-level safety results from the use of a straight frame having high energy absorption characteristics and light weight, along with side and back guide monitors.
Easily accommodates four adults, while attaining outstanding aerodynamic characteristics. Four individual seats provide interior comfort.
*Fuel efficiency in the 10-15 Japanese test cycle. Daihatsu test data.
4. New Tanto & New Tanto CUSTOM [Planned production models]

A further evolution of the Tanto and Tanto CUSTOM, which pioneered a new mini vehicle genre with ultra-space efficiency in the category's limited size. They feature mini vehicle class-leading roominess* and the Pillarless Powered Sliding Door, the first** combination of center-pillarless construction and a sliding door in a mini vehicle, which creates a wide entrance that provides easy access for all.
Wider, more convenient and more fun, a breathtaking package the whole family will love.
Impressive roominess and user-friendly interior design.
Family-friendly utility with a room-like atmosphere, thanks to the world's first** wood-grain "flooring" in a mini vehicle.
< New Tanto CUSTOM >
A substantial, vigorous presence, based on the concept of a "gorgeous, great cruiser", with class-leading* roominess.
The exterior design creates a stable, solid attitude of impressively powerful individuality.
The sophisticated, premium cabin's cruiser feel generates a gorgeous, romantic atmosphere.
* Interior length x interior width x interior height, as of September 2007, according to Daihatsu data.
* As of September 2007, according to Daihatsu data.
5. New Tanto WELCOME SEAT [Concept car]
A new proposal for a barrier-free mini vehicle that exploits the barrier-free potential of the new Tanto.
A comfortable posture can be maintained for boarding/deboarding via the passenger seat lift, thanks to the new Tanto's spacious interior and the wide entrance created by its Pillarless Powered Sliding Door and the front door's ability to open about 90 degrees.
The front passenger seat lift can slide to the rear to open up generous foot room.
The seatbelt can be secured and released outside the vehicle to keep seating posture steady while boarding and deboarding via the passenger seat lift.
Technology Display
1. OPCS (Omni-Directional Pre-crash Safety Support System)

This omni-directional accident avoidance support system is a further evolution of Daihatsu's active safety technology. Laser radar detects obstacles 360 degrees around the vehicle to support accident avoidance in a variety of scenarios.
Two wide-angle laser radar units, front and rear, provide 360-degree detection of all obstacles including pedestrians.
Active Vehicle Hazard: If this system detects cars, bikes, etc., on course toward a collision, LED lamps flash in the other vehicle's direction, alerting its operator.
3D Imaging Display: Shows vehicle information and other safety information as easy-to-understand 3D images.
2. TOPAZ NEO KF Engine
The essence of Daihatsu technology in a next-generation engine for class-leading* performance, environmental friendliness and quietness.
Long-stroke pistons and ultra-compact combustion chambers with greatly reduced friction, and a strong aluminum cylinder block add up to about 5%** better low- to mid-range torque.
Individually balanced crankshafts contribute to quieter operation.
A broad torque range helps achieve about 10%** better fuel economy.
Fitted in the Daihatsu ESSE, SONICA, MOVE, and Mira, among others.
* Among naturally aspirated engines in mini vehicles, as of September 2007, according to Daihatsu data.
** Compared to a conventional Daihatsu engine.
3. Super Intelligent Catalyst
World's first* Super Intelligent catalyst extends self-regenerative capability to all three precious metals in catalytic converters
This breakthrough catalytic converter, developed by Daihatsu, maintains its outstanding exhaust-cleaning performance over time.
By giving self-regenerative capability to the precious metals, palladium (Pd), rhodium (Rh) and platinum (Pt), used in catalytic converters, it can reduce consumption of these precious resources while cleaning exhaust gases.
Used in the Daihatsu ESSE, SONICA, MOVE, Mira, and others.
*As of September 2007, according to Daihatsu data.
4. CVT (continuously variable transmission)
High-efficiency, light and compact metal-belt CVT
The world's first* input-reduction type 3-shaft gear train configuration, this CVT uses a reduced belt rotational speed to attain high power transmission efficiency.
Optimized for mini vehicle applications, this next-generation CVT is among the world's lightest* and most compact.
Fitted in the Daihatsu SONICA, MOVE, Mira, and others.
*As of September 2007, according to Daihatsu data.
Production Models
MOVE CUSTOM RS
Mira CUSTOM X
ESSE VS Memorial Edition
Copen Ultimate Edition II Memorial
ATRAI Sloper
Be-go CX