Daihatsu Begins Sales of the New Multi-purpose Vehicle XENIA in China
Jun. 21, 2007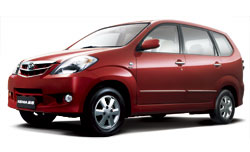 XENIA
DAIHATSU MOTOR CO., LTD. (Daihatsu), together with FAW Jilin Automobile Co., Ltd. (FAW Jilin Auto), a group company of China FAW Group Corporation, has begun sales of the new multi-purpose vehicle XENIA in China. The announcement was made at a line-off ceremony for the XENIA held in Jilin, China on June 21.

The XENIA is a globally strategic vehicle that enjoys a good reputation worldwide, particularly in Indonesia, and has been specially modified to suit the Chinese market. Production in China will be carried out at FAW Jilin Auto. Sales will be carried out via an independent Daihatsu sales network based on FAW Jilin Auto's existing nation-wide network. The launch of the XENIA, a new compact multi-purpose passenger car designed to meet the diversifying needs and expectations of drivers towards compact vehicles in the Chinese market in a wide range of applications from day-to-day use to leisure, will mark the first time that the Daihatsu brand has made a full-scale entry into the Chinese market. The annual sales target is 30,000 units and the manufacturer's suggested retail prices range between 69,800 RMB and 98,800 RMB (approximately 1.05 to 1.48 million yen).
XENIA (Chinese name: Sen Ya)
Fitted with an advanced 3SZ 1.5-liter engine with DVVT (Dynamic Variable Valve Timing), the XENIA boasts excellent acceleration performance and cruising stability, and is capable of carrying seven people with three rows of seats. Five-seater models with two rows of seats (either with a 1.3- or 1.5-liter engine) will also be available.