Overseas
News release
NEW

Dec. 14, 2006
Daihatsu Announces New SUV for Indonesia
Dec. 14, 2006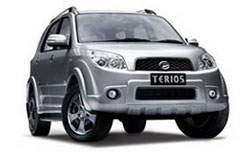 TERIOS
Daihatsu Motor Co., Ltd. announced today that it will launch a new compact SUV Terios in Indonesia in January 2007. The aim, in response to increasing demand in Indonesia for compact SUVs, is to expand the market while meeting various customer needs.

The new SUV will be produced at P.T. Astra Daihatsu Motor (ADM), which is Daihatsu's production base in Indonesia, and will be sold through P.T. Astra International (AI). Plans also call for the new SUV to be supplied to Toyota on an OEM basis in Indonesia under the name Rush.

The new Terios is targeted at active, young families who will use the SUV in their daily lives and for leisure activities. The monthly sales target is 1,000 units. On the road price for the vehicle is between 123 and 161 million rupiahs (approximately 1.59 to 2.08 million yen).
Vehicle Outline
The new Terios boasts styling that befits an advanced, full-scale SUV.
Three rows of seats to accommodate seven passengers and versatile seat arrangements contribute to a high-efficiency package.
The vehicle is equipped with a new 1.5-liter DOHC engine with VVT-i (Variable Valve Timing-intelligent).