Daihatsu Xenia VVT-i, More Elegant, More Luxury, and More Powerful.
Jul. 12, 2006
PT Astra Daihatsu Motor launches the new Daihatsu Xenia, which called Daihatsu Xenia VVT-i on Wednesday, July 12 2006, in Shangri-La Hotel-Jakarta. This model, which is the improvement of the previous Xenia model, not only just has more elegant exterior and more luxury interior, but also is equipped with VVT-i engine, which makes this model more powerful and responsive.

Since its debut in January 2004, Daihatsu Xenia has obtained a very good response and acceptance from Indonesia automotive market. It shows high level of customer demand. Total Xenia sales reached 22,006 units in 2004 and 27,505 units in 2005.

" This Xenia VVT-i is our answer to fulfill customer needs of an extra efficient car but still trendy, luxury, comfort, safe, and affordable. It also shows Daihatsu's readiness for the Euro2 implementation next year," said Johannes Loman, Marketing Director of PT Astra Daihatsu Motor.

PT. Astra Daihatsu Motor, which located in Sunter – North Jakarta, as one of Toyota Group's overseas production bases, produces both Daihatsu Xenia and Toyota Avanza, the collaboration products between Daihatsu and Toyota. These collaboration products have received good acceptance in the market, with high demand level. As the response for high demand level from both Xenia and Avanza, PT. Astra Daihatsu Motor has increased its factory production capacity to 114,000 units per year. This production capacity level has made PT. Astra Daihatsu Motor as one of the biggest car manufacturer in Indonesia.
New Exterior, more elegant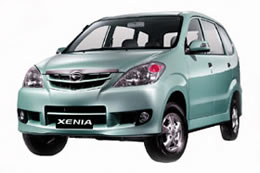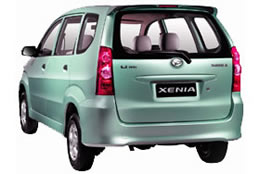 * Photos shown above are with dealer option accessories (alloy wheel, electric mirror, fog lamp, fog lamp cover, and rear spoiler).

Daihatsu Xenia VVT-i comes up with its new exterior style which is fresher and elegant. The elegant feeling is expressed by its new front grille, bumper, and head lamp design.

In the rear side, this model also has new rear lamp design. Daihatsu introduced two new colors for Xenia VVT-i, which are Aqua Blue and Lime Green.
New Interior, more luxury

Significant and beautiful changes are clearly shown in its interior. The two-tone color combination for its dashboard and seat-upholstery, now available on Li and Xi variants, makes the Xenia VVT-i cabin atmosphere more luxury. The luxury feeling is also built by its new combination meter design. This model is also equipped with new function, such as double folding seat in all 2nd row seats.
Engine with VVT-i and catalytic converter, more powerful, responsive, and environmental friendly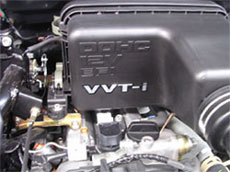 Daihatsu Xenia VVT-i, not only with its new exterior and interior looks, but also is equipped with the VVT-i system. The VVT-i system will improve Xenia's engine performance to more powerful through higher maximum power, more responsive through higher maximum torque, and also make it more efficient fuel consumption. There are 2 kinds of engines, EJ-VE 1.0 VVT-i and K3-VE 1.3 VVT-i engines. The EJ-VE 1.0 VVT-i engine is the only engine in Indonesia, with displacement 1,000cc and has VVT-i system. For the 1.0 L engine model (Mi and Li variants), the benefits from the VVT-i system have been used to improve the fuel efficiency by approximately 7% for those customers who value economical benefits of Xenia. On the other hand, for the 1.3 L engine model (Xi variant), the VVT-i system contributes to improve the performance, increasing the maximum power and torque.
The new engine also fulfills Euro 2 standard, by its catalytic converter, which makes Xenia VVT-i more environmental friendly.
Xenia 1.0 Mi, Li
Current Xenia
EJ-DE 1.0
Xenia VVT-i
EJ-VE 1.0 VVT-i
Max. Output (PS/rpm)
57/5200
63/5600
Max. Torque (kg-m/rpm)
9.2/3600
9.2/3600
Xenia 1.3 Xi
Current Xenia
K3-DE 1.3
Xenia VVT-i
K3-VE 1.3 VVT-i
Max. output (PS)
86/6000
92/6000
Max. Torque (kg-m/rpm)
11.9/3200
12.2/4400
Variant
PT Astra Daihatsu Motor keeps their 3 current Xenia factory standard variants, which are Mi (1000cc standard), Li (1000cc deluxe), and Xi (1300cc deluxe). For dealer option, Plus, Family, and Sporty optional package will be available.
Color
NEW COLOR
CLASSIC
SILVER
MIDNIGHT
BLACK
EXOTIC
BEIGE
OCEAN
BLUE
WINE
RED
AQUA
BLUE
LIME
GREEN
1.0 VVT-i Mi
○
○
○
1.0 VVT-i Li
○
○
○
○
○
○
○
1.3 VVT-i Xi
○
○
○
○
○
○
○
Price
In order to keep the affordable price, for this new Xenia VVT-i, Daihatsu sets the price of the factory standard model as follows:
| No | Type | DKI Jakarta On the Road Price |
| --- | --- | --- |
| 1. | Mi | IDR 84.050.000,- |
| 2. | Li | IDR 95.050.000,- |
| 3. | Xi | IDR 103.050.000,- |
The competitive price has strengthened Daihatsu Xenia VVT-i's position as an Extra Efficient vehicle with more elegant styling, luxury interior, powerful performance, and pride-to-own. Daihatsu Xenia VVT-i is the right choice for Indonesian family.

Supported with wide sales and after-sales network coverage, which is available in all areas of Indonesia, Daihatsu with its new Xenia VVT-i is ready to deliver its best service and maximum satisfaction to Indonesia society. Daihatsu, We Make it Compact.