Overseas
News release
NEW

Feb. 10, 2006
Daihatsu to Exhibit New Terios and Unveil D-Compact Wagon for the First Time at the 76th Geneva International Motor Show
Feb. 10, 2006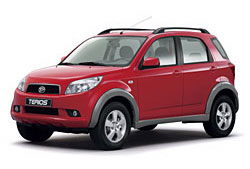 New Terios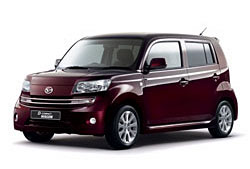 D-Compact Wagon (world premiere)
Daihatsu Motor Co., Ltd. announced today that it will exhibit the completely redesigned compact SUV Terios and a prototype vehicle of the D-Compact Wagon at the 76th Geneva Motor Show. The Motor Show will be open to the general public from March 2 to 12, with press days scheduled for February 28 and March 1. Trevis (European premiere) and Sirion 4WD will also be exhibited.
New Terios
After sales in excess of 300,000 units across more than 110 countries worldwide, the Terios has undergone a complete redesign. The innovative proportions, with a long wheelbase and a short overhang, simultaneously express the power of an SUV and the refinement of an urban vehicle. The comfortable ride, whether driving downtown or on the expressway, is achieved through a newly developed high-output high-torque 1,500cc engine in a vehicle body with compact dimensions that realizes excellent handling thanks to a minimum turning circle of only 9.8m. The vehicle also supports true off-road driving through a full-time four-wheel drive system, with a mechanical, centre-locking differential.
D-Compact Wagon (world premiere)
The D-Compact Wagon is a unique and emotional multi-purpose vehicle for families and boasts unforgettable styling, a roomy yet cozy interior, and a versatile seat arrangement. The vehicle's unique presence offers added pleasure in ownership, while the spacious interior and various other distinct characteristics offer a fun time to share with family and friends.