Products & Technology
News release
NEW

Oct. 11, 2005
Daihatsu Exhibits HVS Hybrid Open Sports Car and UFE-III Ultra Fuel Economy Car at the 39th Tokyo Motor Show
Oct. 11, 2005
DAIHATSU MOTOR CO., LTD. (Daihatsu) is exhibiting nine prototype models (13 vehicles) and nine production models as well as spotlighting its engineering advances at the 39th Tokyo Motor Show, from Saturday, October 22 to Sunday, November 6 at Makuhari Messe in Chiba Prefecture.

Based on the Daihatsu slogan "We make it COMPACT" and inspired by Daihatsu's unifying exhibition theme "Wonderful Small vehicles - Future Style", Daihatsu reveals its latest accomplishments in the areas of "Fun, Eco, & Life", to show the shape of the small car's future.

Some of the show highlights will be the HVS hybrid open sports car, which fuses sporting and environmental impulses; the third-generation "ultra fuel economy" UFE-III; the ESSE smart & casual small sedan, and many more, not to mention Daihatsu's advanced technology.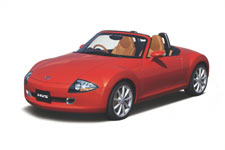 HVS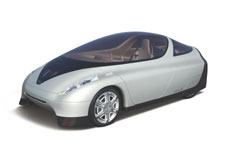 UFE-III
ESSE
1. HVS (Hybrid Vehicle Sports)
The HVS is a hybrid open sports car that offers a sophisticated fusion of driving performance and environment-friendly performance.
Open sports car with compact, 3,715mm overall length delivers an exhilarating experience of driver-vehicle unity.
Combining the advanced look of a hybrid car with the pulse-quickening style of a sports car, the HVS has a low center of gravity based on a spindle shape.
High-quality sports seats and instrument panel, with metal accents on meter cluster and center console for an overwhelmingly sporty, progressive interior.
Hybrid system comprises two motors and a 1.5-litre inline 4-cylinder gasoline engine in front. Together with the rear electric motor with left-right drive power control mechanism, this delivers the sporty performance of 2-liter engine vehicles along with excellent 37km/litre* fuel economy (10-15 mode Japanese emission standard, Daihatsu in-house test data), surpassing that of 1-litre engine vehicles.
Emissions reduction equivalent to 75% below Japan's 2005 regulations.
2. UFE-III (Ultra Fuel Economy)
Shown at previous Tokyo Motor Shows in 2001 and 2003, this is the third generation of the "ultra fuel economy" UFE. This hybrid minivehicle achieves category-leading fuel economy of 72km/litre (10-15 mode Japanese emission standard, Daihatsu in-house test data).
New 3-seater package with driver in front and two rear seats.
Cd of 0.168, world's lowest* aerodynamic drag coefficient for this class of minivehicle, with polymer and aluminum ultra-light (440kg kerb weight) body and other measures to reduce rolling resistance.
Hybrid system comprising 660cc inline 3-cylinder direct injection Atkinson engine and two motors.
New-generation styling with a streamlined super aerodynamic shape, canopy door and pointed LED headlamps.
Futuristic interior offers comfortable space for three persons within compact dimensions. Operational convenience and functionality with steer-by-wire technology and easy-access control layout.
*As of October 2005
3. ESSE (essence of the minivehicle's greatest assets) - Market launch planned
Signifying "essence", the ESSE embodies the minivehicle's "Ecological, Simple, Smart and Easy" essence in one casually fashionable package that adds pleasure to daily life.
Simple and timeless styling gives a feeling of stability based on a trapezoidal shape, with a clear view over the high bonnet for inviting, easy-to-drive functionality.
Convenient and stress-free interior has frequently used instrumentation and audio functions centrally arranged for easy access and visibility, with large switches and lettering. Interior colors are coordinated with body colors in a fresh and fashionable effect for daily driving pleasure.
Body color shades represent essential tones of nature. Harmony is maintained between body and interior colors.
Newly developed TOPAZ KF 660cc in-line 3-cylinder gasoline engine delivers excellent driving performance together with outstanding fuel economy and clean performance for emissions reduction equivalent to 75% below Japan's 2005 regulations.
4. Be go (from "being there" to "going somewhere") - Market launch planned
A new genre, the compact SUV, with more interior space than a 2-litre class SUV, authentic 4x4 performance and strong, refined styling.
Highly maneuverable body is less than four meters in length and has a short overhang, yet interior roominess warrants the name SUW (sports utility wagon).
Room for five adults to travel in comfort, thanks to generous front-rear seat spacing, yet 380 litres* of luggage space with all aboard.
Full-time 4x4 system with center differential lock, built to go the distance, with ample ground clearance and a 1.5-litre engine for performance on par with 2-litre class vehicles.
*VDA storage capacity based on in-house measurement.
5. COSTA (Spanish for "coast." A car that gets you away from the everyday -- in beach sandal fashion.)
Frolic with the wind, in this freedom-loving semi-open minivehicle based on a full-time 4x4 power train.
Built on the concept of sandals, COSTA's playful design has an open structure and no doors. All-weather interior has mesh-covered hammock-like seats and wood-deck floor.
Full-time 4x4 system for surefooted performance on varied terrains.
6. SK-Tourer (SK stands for "soukai," meaning "invigorating" in Japanese.)
This new genre of small tourer has streamlined, dynamic styling, invigorating performance and comfortable interior quality all rolled into one.
Long and low-slung aerodynamic body complemented by rounded interior that envelops passengers in comfortable, low seats.
660cc in-line 3-cylinder turbo engine balances high power and remarkable fuel economy, while a CVT with tip-shifter promises smooth and sporty gear shifting.
7. Copen ZZ (double "Z" represents exciting potential.)
Equipped with a 1.5-litre engine. New, more massive body lines emphasize the latest Copen's evolution toward exciting driving excitement.
Copen's signature teardrop styling has been expanded in length and height. Sporty appearance extends to interior's custom Recaro leather seats and special leather-covered MOMO steering wheel.
1.5-litre inline 4-cylinder gasoline engine for extremely sporty performance.
8. Tanto Sloper
This barrier-free minivan with wheelchair boarding ramp offers ample cabin comfort, based on the astonishingly roomy Tanto.
Wheelchair boarding/deboarding is extremely easy with gently sloping ramp and safety strap to prevent rearward slippage. Roomy cabin enhances comfort with ample headroom for the wheelchair-seated passenger.
Passenger seat power-lift assists getting in and out,, while foldable rear seat expands seating capacity to accommodate four adults.
9. Tanto FCHV
Based on the Daihatsu Tanto body, this fuel cell hybrid vehicle (FCHV) seats four adults in roomy comfort.
The Tanto FCHV is based on the same body as the Daihatsu Tanto minivehicle. Daihatsu increased hydrogen tank capacity to achieve extended cruising distance per fill-up, while assuring ample cabin comfort for four adults.
LED headlights help save power, while an energy indicator and other features add convenience.
Technology Exhibits
1. TOPAZ KF
Daihatsu's newly developed ultra-light compact 660cc inline 3-cylinder gasoline engine for minivehicles leads its class*1 in performance, environmental friendliness and quiet operation.
TOPAZ KF is a full upgrade of the popular TOPAZ*2 engine, offering across-the-board performance benefits.
Achieves 5% greater torque, 10% better fuel economy, and 25% lighter weight compared to previous model (Daihatsu comparison). Basic design uses long-stroke pistons and ultra-compact combustion chambers, enhanced with high efficiency intake ports, friction-reduction technology, and high-strength aluminum cylinder block, while adopting individually balanced crankshafts and other measures to assure extremely quiet operation.
Generates peak output of 43kW (58PS) and peak torque of 65N·m (6.6kg·m) for a feeling of smooth acceleration from a standing start to cruising speed.
Incorporates the "Super Intelligent Catalyst", a further evolution of Daihatsu's "Intelligent Catalyst", and Daihatsu's enhanced "Catalyst Early Activation System", which controls combustion based on ionic current detection, to achieve extraordinarily clean performance with emissions reduction equivalent to 75% below Japan's 2005 regulations.
In the TOPAZ KF name, the "K" signifies Japan's "kei" minivehicle class, while the "F" stands for "future."
*1 Claim based on naturally aspirated engines in the Japanese minivehicle "kei" class, as of October 2005.
*2 TOPAZ: an acronym for Top from A to Z, reflecting Daihatsu's goal of aiming for the highest
performance in terms of power, environmental friendliness and reliability in power trains and related technologies.
2. TOPAZ CVT (continuously variable transmission)
High-efficiency, light and compact metal-belt CVT contributes to fuel economy.
Employing the world's first input-reduction type 3-shaft gear train configuration along with reduced belt rotational speed achieves extraordinarily high power transmission efficiency in the world's most compact and lightweight package*.
Ultra-wide gear ratio, and leading-edge electrohydraulic control assure outstanding acceleration characteristics across the range for a smooth yet responsive driving experience. In tandem with the TOPAZ KF engine, this CVT helps achieve top-level* fuel economy for the minivehicle class.
*As of October 2005.
3. Super Intelligent Catalyst
Extends self-regenerative capability to rhodium and platinum.
Daihatsu led the industry in developing the world's first "Intelligent Catalyst," a significant innovation that gives a self-regenerative capability to the precious metal catalyst widely used in catalytic converters, thereby preventing degradation of emissions purifying performance over time. The "Super Intelligent Catalyst" extends this self-regenerative capability to all three precious metals used in catalytic converters: rhodium (Rh) and platinum (Pt), in addition to palladium (Pd). This provides ultra-clean performance and conservation of precious metal resources.
Together with the Catalyst Early Activation System, this technology will be applied increasingly to Daihatsu production vehicles.
4. TOPAZ 2CDDI-II
The high torque of a 2-litre engine from a clean and fuel-efficient 1.2-litre inline 2-cylinder direct-injection 2-cycle diesel engine.
Uses a hybrid scavenging system, which combines a supercharger and turbocharger.
The torque of a 2-litre class engine together with outstanding fuel economy, thanks to turbocharger utilization of exhaust gas energy, an original scavenger port, and the latest common rail system.
Extremely clean performance, using residual gas control system and electronically controlled cooled EGR system for smokeless, low-NOx combustion over a wide load range.
Production models
Mira Selfmatic
Mira AVY
Mira GINO
MOVE
MOVE CUSTOM
MOVE LATTE
Tanto CUSTOM
ATRAI WAGON
HIJET CARGO Hybrid
For more information please contact:
Daihatsu's Public Relations Dept. Public Affairs Div. at (03) 3279-0815 (Tokyo); (072) 754-3047 (Osaka)