Overseas
Products & Technology
NEW

Aug. 31, 2005
Daihatsu Exhibits Compact SUV and Hybrid Sports Car at the 61st Frankfurt Motor Show
Aug. 31, 2005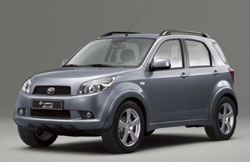 D-Compact 4X4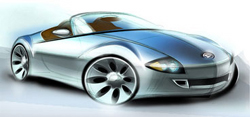 HVS
Ikeda, Osaka —August 31, 2005— Daihatsu Motor Co., Ltd. ("Daihatsu") today announced that it will exhibit a compact SUV, the D-Compact 4X4, and a hybrid sports car, the HVS, along with a number of other new models at the 61st Frankfurt Motor Show. The event, which runs from September 17 to 25 for the general public, will be open for the press on September 13 and 14.
D-Compact 4X4 (concept car world premier)
The D-Compact 4X4 is Daihatsu's proposal for a new compact SUV that's more powerful, more dynamic and more handsome. Its dynamic and sophisticated styling is an expression of the car's pure SUV performance and ease of use in the city. The newly developed 1.5-litre engine supports nimble acceleration in all speed ranges and delivers the powerful driving performance you'd expect of an SUV.
HVS (concept car world premiere)
A new lightweight sports car that reconciles environmentally friendly performance with the joy of driving at an unprecedented high level, the HVS combines a 1.5-litre engine and an advanced electrically operated 4WD hybrid system to draw out the full potential of hybrid technology. The result is a powerful and exhilarating drive reminiscent of a 2-litre car but with fuel economy exceeding that of a conventional 1-litre car. The rear electric motor transmits power via a drive-control mechanism that drives the left and right wheels separately for increased stability during high-speed cornering.