Products & Technology
News release
NEW

Oct. 14, 2004
Daihatsu to Exhibit Next-Generation Commericial Minivehicles, Barrier-Free Vehicles and Hybrid Vehicle at Tokyo Motor Show
Oct. 14, 2004
DAIHATSU MOTOR CO., LTD. (Daihatsu) plans to exhibit 12 concept cars along with new technologies at the 38th Tokyo Motor Show—Commercial & Barrier-free Vehicles—(Nov.3-7)at Makuhari Messe in Chiba Prefecture, near Tokyo, Japan.

At this year's Tokyo Motor Show, Daihatsu will present its vision of the small-car future in commercial and barrier-free vehicles. Daihatsu's exhibits will focus on its initiatives in three categories—Business, Life, Eco—under the overall theme of "Wonderful Small Vehicles, the Future Form," based on the company's corporate slogan "We make it COMPACT".

Concept cars to be exhibited include the FFC and FRC next-generation commercial vehicles, the New HIJET CARGO and New HIJET TRUCK commercial minivehicles featuring improved basic performance, the Mira Selfmatic drive-it-yourself vehicle for the disabled, and the New HIJET CARGO Hybrid vehicle. Daihatsu will also exhibit its advanced technologies.
FFC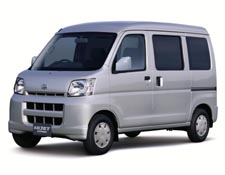 New HIJET CARGO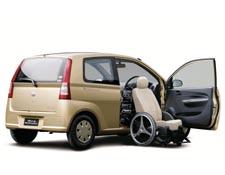 Mira Selfmatic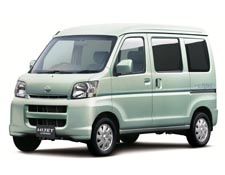 New HIJET CARGO Hybrid
Concept cars (minivehicles, 660cc)
[BUSINESS]
1. FFC (Future Figure of compact Cargo, FF layout compact Cargo)
A worker-friendly, earth-friendly, next-generation "useful & friendly" cargo van for tomorrow's package delivery and mobile business needs.
FF layout with 2,490mm wheelbase and 1,950mm height offers a box-shaped cargo area for space-efficient cargo loading. The passenger seat is folded to allow loading of long items.
Ample 1,550mm high cargo area ceiling permits work while standing. Sliding doors on both sides, low flat-floor and other design features enhance ergonomics and ease of ingress and egress.
Modern styling and functional, simple interior blend well with the urban landscape.
2. FRC (Further Reformed compact Cargo, FR layout compact Cargo)
Next-generation super-space van offers outstanding cargo efficiency & ergonomics for package delivery applications.
Class-leading* minivehicle load capacity, thanks to a 1,860mm long cargo area, innovative engine position, and wide, small-radius rear tires for flat, low floor and high ceiling design.
Sliding doors on both sides of the vehicle. Convenient walk-through access to the cargo area from left or right of front seat, outstanding ergonomics and easy ingress and egress.
Tough and functional next-generation cargo silhouette body styling with easy-to-drive cockpit design featuring wide forward visibility.
*As of October 2004 (Daihatsu comparison).
3. New HIJET CARGO - Market launch planned
New HIJET CARGO thoroughly redesigned for cargo handling & capacity, driveability and ride comfort.
Class-leading* cargo space of 1,860mm length, 1,375mm width and 1,235mm height. Packed with convenience too.
Ample cabin interior balances comfort with practical features such as a glove compartment spacious enough to hold large A4 size file binders.
Class-leading* sliding door opening width of 770mm and rear door loading bay width of 1,335mm for enhanced cargo handling convenience.
A 3-link suspension and class-leading* wheelbase of 2,450mm for ride comfort.
*As of October 2004, minivehicle cab van class (Daihatsu comparison).
4. New HIJET TRUCK - Market launch planned
New HIJET TRUCK pursues outstanding cargo hauling performance and comfort.
Full-cab configuration. Spacious cabin and class-leading* guard-frame cargo bed length of 1,945mm for a balance of comfort and cargo hauling performance.
Steering angle raised and minimum turning radius reduced to a class-leading* 3.7m.
Improved corrosion resistance with enhanced undercoating characteristics and other innovations.
*As of October 2004, minivehicle cab truck class (Daihatsu comparison).
5. New HIJET Deck Van - Market launch planned
Innovative 4-person open-deck multi-purpose vehicle styled to satisfy business and recreational needs.
Seats four persons and has a deck for hauling large items.
Rear seat folds away to open up generous utility space.
6. New HIJET Jumbo - Market launch planned
Multi-use truck features jumbo-size cabin for more leisure possibilities.
Spacious cabin and sedan-like reclining seats offer driving comfort.
Plentiful utility space in cabin, including storage trays behind and above the seats.
[LIFE]
1. Mira Selfmatic - Market launch planned
Automatic boarding mechanism lets wheelchair become driver's seat in this drive-it-yourself, 4-person, barrier-free vehicle.
Remote-controlled automatic boarding mechanism allows wheelchair boarding into driving position without assistance.
Designed to enable hands-only driving.
Ample space to seat four adults including driver.
2. Tanto Floorlift
Floor-lift equipped, wheelchair user transport vehicle based on surprisingly spacious Tanto.
Power floorlift permits easy boarding and deboarding while seated in a wheelchair.
Reduces burden on caregivers and gives confidence to wheelchair users.
3. Tanto Sloper
Ramp equipped Tanto for wheelchair user transport.
Enables boarding of wheelchair passengers via reardoor ramp.
Passenger seat has fully automatic seat-lift mechanism for additional flexibility to meet transport needs.
4. New HIJET Sloper - Market launch planned
Vehicle has ramp to enable easy boarding for wheelchair user transport.
Ramp and electric power-winch assist wheelchair boarding and deboarding.
Available 4WD. Ideal choice for wide range of welfare facilities, nursing care and wheelchair taxis.
[ECO]
1. New HIJET CARGO Hybrid - Market launch planned
Combines a 660cc gasoline engine and electric motor to achieve a leap in clean performance with high fuel economy and low emissions in a 4-person hybrid vehicle.
Delivering a fuel economy improvement of about 30%, the engine turns off when stopped and energy is regenerated during deceleration.
Achieves emissions reduction equivalent to 75% below Japan's 2005 regulations (SU-LEV class established by Ministry of Land, Infrastructure and Transport).
First hybrid commercial minivehicle, in monitoring program on public roads since 2002, preparing for market launch.
2. New HIJET CARGO CNG - Market launch planned
Compressed natural gas (CNG) vehicles offer a clean-energy alternative with low emissions of CO, HC and NOx as well as CO2, implicated in global warming.
Provides more legroom to rear passengers while also achieving 75 liter gas tank capacity.
Max. load capacity of 350kg
Technology Exhibits
1. Daihatsu Mild Hybrid System
Single-motor hybrid system used in the HIJET CARGO Hybrid vehicle.
2. i TOPAZ* engines in Mira, Move series and HIJET series
These 660cc in-line three-cylinder gasoline engines achieve emissions reduction equivalent to 75% below Japan's 2005 regulations by employing Daihatsu's "catalyst early activation system," which detects ionic current within the cylinders to control combustion, and Daihatsu's self-regenerating "intelligent catalyst," which maintains highly effective emissions cleaning performance.

*TOPAZ: Stands for "TOP from A to Z," signifying top-level performance in terms of power, ecology, reliability, etc., the goal for Daihatsu powertrains and peripheral technologies.
3. Friendship i System
Daihatsu's Friendship i System uses onboard equipment to support nursing care transport services which take patients to and from a hospital or other facility. Transport record data is sent automatically from vehicles via the Internet to the administrator's PC for data management.
For more information, please contact Daihatsu Public Relations at (03) 3279-0815 (Tokyo); (072) 754-3047 (Osaka)