Products & Technology
News release
NEW

Sep. 22, 2004
Toyota, Hino, Daihatsu to Jointly Exhibit at 11th ITS World Congress - "Toyota Showcase" Tour to Offer Participants Hands-on ITS Experience -
Sep. 22, 2004
Tokyo — TOYOTA MOTOR CORPORATION (TMC), HINO MOTORS, LTD. (Hino), and DAIHATSU MOTOR CO., LTD. (Daihatsu) announced today that they will present a joint exhibition booth at the 11th World Congress on ITS, Nagoya, Aichi 2004, to be held from Oct. 19 to Oct. 24 at Nagoya International Exhibition Hall (Port Messe Nagoya) in Nagoya,

Aichi Prefecture, under the organization of the Japan Organizing Committee for the World Congress on ITS Nagoya, Aichi 2004 (Japan Organizing Committee). Concurrently, as part of the hands-on experience TT-2 course "Street Value Adventure in Toyota"*, which is one of the technical tours organized by the Japan Organizing Committee during the congress, the TMC-created "Toyota Showcase" at Foresta Hills (Toyota City, Aichi Prefecture) is to present TMC's ITS efforts and offer a chance to test-drive vehicles equipped with the latest ITS technology.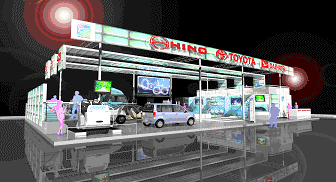 The Toyota-Hino-Daihatsu Joint Booth Design
*A tour featuring Toyota City's ITS strategy and TMC activities for motor vehicle safety and environmental protection
1) Toyota, Hino and Daihatsu joint booth
Toyota has consistently worked energetically to achieve high functional development of the automobile and advanced development of transport systems through ITS and has participated in the ITS World Congress since its inception with displays of the latest in ITS technology.

Although the ITS World Congress was previously aimed at specialists, under the concept of "citizen participation", the exhibits at the Nagoya gathering are to be made open to the general public, presenting an unparalleled opportunity for a comprehensive presentation of activities in the ITS field by TMC, Hino and Daihatsu.

At their joint booth, under the theme 'Drive ITS Dreams', ITS activities will be explained in an accessible fashion under the three headings—"Safety", "Sustainability" and "Accessibility/Comfortability". A future ITS society will be presented using computer graphics and other media, and vehicles fitted with the latest ITS technology by TMC, Daihatsu and Hino will be on display so as to give a concrete demonstration of the link between vehicles and ITS.

There will also be a space devoted to the 2005 World Exposition, Aichi, Japan (EXPO 2005 AICHI, JAPAN), where Toyota's activities at EXPO 2005 will be presented along with ITS technology and other topics.
2) Toyota Showcase
Based on the theme "What Cars and Mobility Will Be Like in the Year 20XX", the Toyota Showcase will present TMC concepts for ITS development and TMC's vision of the ideal transport world based on widespread introduction of ITS, using computer graphics to present its vision from the viewpoints of cars, roads and services.

Also, making use of roadways, parking lots and other facilities at the Foresta Hills site, participants will be offered hands-on experience using cutting-edge technologies currently still in development alongside already commercialized ITS technologies.

The cutting-edge technologies to be presented will consist of a navigation-coordinated system for safe driving support and a road surface projection system. The former is designed to provide the driver with information on "STOP" positions drawn from the navigation system's map data and to undertake brake control when necessary. The latter is intended to reduce blind-spot accidents, such as corner-to-corner collisions, by using a visible laser light to project the expected traveling path of the vehicle onto the road surface.

For your reference, please see the following:
Appendix 1: Overview of TMC, Hino and Daihatsu Joint Booth
Appendix 2: Overview of Toyota Showcase
World Congress on ITS
The World Congress on ITS is the world's largest and most influential ITS-related international conference. It is held every year in rotation in Europe, the Asia-Pacific region and the Americas. ITS-related groups (governments, research organizations and businesses) from a wide range of countries and regions use sessions (scientific papers), exhibitions and technical tours to present and display the latest in ITS research findings and products.
The congress, first held in Paris in 1994, returns to Japan following a nine-year break since the second congress was held in Yokohama in 1995.
Special features of the 11th World Congress on ITS, Nagoya, Aichi 2004 are:
Admittance of the general public to both the congress and its displays
A collective array of the latest in IT and ITS technology, allowing for multifaceted interaction
A meeting to consider safe and environment-friendly ITS
Displays to allow hands-on experience of ITS
A major event addressing IT and ITS activities at both the Japan and world levels
Appendix 1 : Overview of Toyota, Hino and Daihatsu Joint Booth
Item
Content
Display booth
Drive ITS Dreams – Changing Lifestyles with ITS (Safety, Sustainability and Accessibility/Comfortability) –
Aiming to realize an idea transportation reality (comfortable movement that is safe and considerate to the environment) and take a proactive corporate stance by means of the propagation of ITS
Booth Structure / Content

1. Presentation Zone
Using computer graphics, introduces, in an easy-to-understand show-like format, how the introduction of ITS will change lifestyles in both the present and future by focusing on three generations of the same family
2. Future Zone
1) Concept Wall
Uses images to present thinking related to concrete initiatives, such as Toyota's concept of ITS initiatives and the three themes of Safety, Sustainability and Accessibility/Comfortability.
2) EXPO 2005 Aichi Japan Corner
Overview of the Toyota Group's pavilion and the ITS technology that will be used for the Intelligent Multimode Transit System (IMTS) to shuttle visitors within the Nagakute site.
3. Contemporary Zone
Presentation of the cutting-edge ITS technology of Toyota, Hino and Daihatsu.
For reference: Each Company's Display in the Contemporary Zone
Company
Toyota
Hino
Daihatsu
1. Vehicle
Displays
ITS Car
(base platform)

Crown Majesta

Hino PROFIA

MOVE
Main Equipped Technology

*Special Equipment

Pre-crash Safety Technology
VDIM
Intelligent AFS
Side Monitor*
Night View System
Radar cruise control system (with a low-speed mode)
Lane-Keeping Assist
System
G-BOOK service
ETC

Pre-crash Safety Technology*
VSC*
Lane Departure Warning System
Tire Pressure Monitoring System
Left Side View Assist Camera
Driver Condition Monitoring System*
Nighttime Pedestrian Monitoring System*
Scanning Cruise
Front View Recording System*
Eco-Drive Assist System*
ETC

Pre-crash Safety Technology*
VSC
Lane Departure Warning System*
Blind Corner Monitor
Radar Cruise Control
Company
Toyota
Hino
Daihatsu
2. Technology
Displays
Display
Items
Pre-crash safety experience simulator
(three-company joint display)

| | |
| --- | --- |
| | A buckle-up simulator that lets booth visitors get a feel for how Pre-Crash Seatbelts and Pre-Crash Brakes work. |

Road surface projection system
Visual Assist Technology
Traffic information forecast /Traffic Flow Simulation Technology
G-BOOK Service

Eco-Drive Assist System
DOSS

VDIM: Vehicle Dynamics Integrated Management
AFS: Adaptive Front-Lighting System
ETC: Electronic Toll Collection System
VSC: Vehicle Stability Control
DOSS: Daihatsu Operation Support System
Appendix 2 : Overview of the Toyota Showcase
Item
Details
Theme
"What Cars and Mobility Will Be Like in the Year 20XX"
Toyota discusses its concept toward approaching ITS, and, through the development of specific technologies for achieving its ITS goals, offers a glimpse of Toyota's vision of the automobile and mobility in the future.
Implementation items/details

Presentation
1) ITS Dream Show
Uses computer graphics to introduce the functions that will be required of the roads, cars and related services of the future as Toyota sees them, and their interrelationship from the perspectives of "Safety", "Sustainability" and "Accessibility/Comfortability".
2) Introduction of Toyota's approach to the development of ITS
- Absolutely "minimize negative aspects ("zero-nize"), such as traffic accidents and traffic congestion, toward the realization of a prosperous society.
- Make as big as possible ("maximize") the fun, excitement, comfort, convenience and other positive aspects that people seek in automobiles.
Introduces Toyota's development philosophy, which aims to achieve at a high level the dual-goal to "zero-nize" and "maximize", and the role of ITS technologies from the three perspectives of "Safety", "Sustainability" and "Accessibility / Comfortability".
Test driving vehicles with ITS technologies
1) ITS functions under development
[1] Navigation-coordinated safe driving support system *For system configuration, please see Appendix A.
This system obtains information from map data on intersections where vehicles must stop, and informs the driver using sound and images. If the system determines that the driver will not stop the vehicle, it issues a warning sound and displays a warning image, and then slows the vehicle down to 0 km/h.
In areas where the vehicle must travel slowly, such as school zones, the system controls the vehicle speed by applying the brakes.
[2] Road surface projection system *For system configuration, please see Appendix B.

This system uses visible laser light to project the expected traveling path of the vehicle onto the road surface along the vehicle's traveling direction, and tries to prevent accidents such as corner-to-corner collisions by recognizing in advance the approach of another vehicle from around a blind corner at intersections with poor visibility.

The overlap between the projections from the two vehicles equipped with the road surface projection system is detected by an image-processing system, which enables each system to issue an alarm and institute control to avoid a collision.
2) ITS functions that have been put into commercial use
[1] Pre-Crash Safety (laser-based)
[2] Radar Cruise Control (with a low-speed mode)
Other exhibits
1) G-BOOK information network service
2) Traffic information forecast
3) Road surface projection simulator, etc.
(Appendix A: System Configuration)
Safe Driving Support System Coordinated with Car Navigation System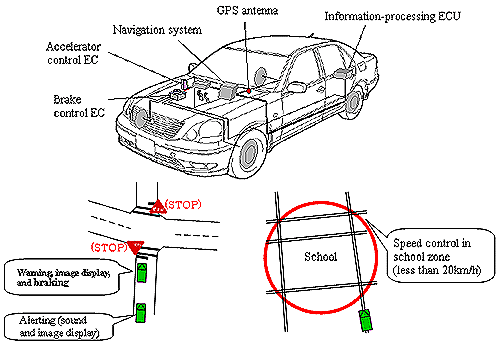 (Appendix B: System configuration)
Road Surface Projection