Products & Technology
News release
NEW

Oct. 14, 2003
DAIHATSU EXHIBITS OPEN-TOP SPORTS 4WD AND ULTRA FUEL ECONOMY CAR AT THE 37TH TOKYO MOTOR SHOW
Oct. 14, 2003
DAIHATSU MOTOR CO., LTD. (Daihatsu) is exhibiting ten prototype cars and eight production models as well as spotlighting the full array of its lead engineering advances at the 37th Tokyo Motor Show, from Saturday, October 25 to Wednesday, November 5 at Makuhari Messe in Chiba Prefecture.

Based on our slogan "We make it COMPACT" to an exhibition theme "Wonderful Small vehicles -the future form", Daihatsu reveals the small car's rich possibilities across four facets of our day to day lives, Fun, Eco, City & Life, to show us the shape of the small cars' future.

Some of the show's prototype car highlights will be the D-BONE, a open-top sports 4WD vehicle with fun of driving; the UFE-II, a hybrid shooting for ultimate fuel economy, developed to less CO2 and gas emissions; the ai, a next generation commuter car; and the XL-C, an elegant and stylish sedan model.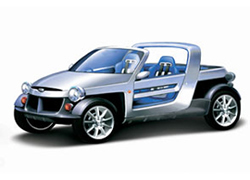 D-BONE
Fun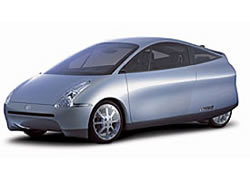 UFE-II
Eco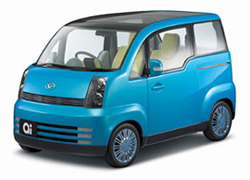 ai
City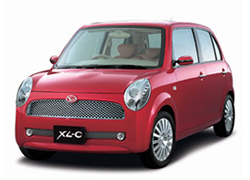 XL-C
Life
Prototype cars
1. D-BONE (Dynamic <Daihatsu> - BONE)
An open-top sports 4WD that puts all the thrills of a dune buggy into a minivehicle. This Daihatsu rude boy matches wild with the exhilarating freedom of a sports car.
the rugged styling of a skeleton body
a rigorous design simplicity of circles and lines is set off by abundant use of metallic surface texture, giving the interior a rugged and bright feel.
2. UFE-II (Ultra Fuel Economy)
Daihatsu's engineers have pushed the eco-saving promise of the UFE shown at the 2001 Tokyo Motor Show to maturity. The UFE-II is a four-seat hybrid minivehicle with an engine plus two motor system that achieves the world's highest fuel economy rate, 60 km/l (Japan 10-15 mode emission standard, Daihatsu in-house test data).
Its ultra-lightweight aluminum and resin body weighs in at just 570 Kg.of vehicle weight. Using aero-simulation Daihatsu engineers achieved this compact 4-seater down to the lowest aerodynamic drag coefficient of any car, anywhere: 0.19*1, a new world record*2!
Equipped with a hybrid system bringing together the newly developed Atkinson 660cc direct fuel injection petrol engine with two motors and a nickel-metal hydride battery.
The car's futuristic feel is emphasized by an utterly aerodynamic body styling, highlighted by a cut-tail teardrop silhouette, gull-wing doors and sophisticated lamp design.
In the cabin, switches are integrated into a central control panel and steer-by-wire is a standard fixture. A sense of operability and functionality dominates his techno-cockpit.
*1 2001 UFE Cd = 0.25
*2 as of Oct. 2003
3. ai (Attractive & Intelligent)
Building on the compact's inherent economy and resource conservation, Daihatsu re-conceived the city commuter car as a stylish and minimum sized 2 + 2 commuter that is more convenient, easier to use, more comfortable and more environment friendly.
Even with sub-compact exterior measurements of 2,650 mm(L) x 1,475 mm(W) x 1,550 mm(H), the front seats sit two adults comfortably, while the rear seats provide ample space for two children or can be converted into a cargo space.
With a minimum turning radius of 3.4 m and equipped with a sliding door on the passenger side, the ai opens a new dimension in city driving convenience.
Drawn in modern clean lines, the exterior expresses a cheerful, clear-cut style. The interior's functional forms create a simple and casual cabin space.
Four different engines are prepared for meeting the demand of regional characteristics and uses: a 660 cc 3-cylinder petrol engine; a newly developed 660 cc 2-cylinder, 2-cycle diesel engine; an Atkinson 660 cc 3-cylinder inline, direct fuel injection petrol engine; or a hybrid power train using an Atkinson direct fuel injection petrol engine plus a hybrid unit that realizes a fuel economy of 45.0 km/l (Japan 10-15 emission standard, Daihatsu in-house test data).
4. XL-C (Excellent Compact)
Though rationalization must be at the heart of every minivehicle, the XL-C stands out as a stylish and elegant small sedan that doesn't give an inch on either quality or the generosity of its cabin space.
The exterior is styled in elegant lines and rich surfaces. In the cabin, the seats are in genuine leather while the interior is all rich contours underwritten by the application of an ellipse motif. The overall effect is both one of casualness and quality.
5. Tanto (Italian word meaning "plenty")
A new kind of wagon with an innovative front engine-front drive solution that should give renewed worth to the small car as a family vehicle.
With an interior space 2,000 mm in length and 1,330 mm in height, the Tanto hauls a revolutionary depth of cabin room, big enough for the kids to walk in. The floor was made flat so people can get in and out easily.
Between the wagon's ultra short nose and big cabin, the exterior design inspires a feeling of futuristic design, while within, the simple clean design of the interior makes you feel at home.
The "Tanto turbo", a sporty version fitted with an aerodynamic bumper and equipped with 660cc twin-cam, 3-cylinder 12 valve turbo engine renowned for its full torque, petrol economy and clean performance, is also exhibited.
Also on show: the "E3 concept" (Easy Enter and Exit concept) multi-purpose vehicle; the MOVE FCV-K-2, a fuel cell minivehicle in Public Road Testing since February 2003; the Mira Selfmatic, a vehicle designed for the physically challenged who live independently; and the Copen SARD SPECIAL, a car that premiered in a demonstration run at the All Japan Grand Touring Car Championship.
Technology exhibition
1. TOPAZ II
The TOPAZ II is a more advanced version of the TOPAZ engine series *1: a 660cc 3-cylinder in-line direct fuel injection, petrol engine, that harmonizes high power with high fuel efficiency and clean emission.
Using a method of uniform combustion in whole sphere has made this engine the most powerful in its class *2 with an output of 44kW.
By combining low friction technology and the "DAIHATSU STOP AND GO SYSTEM" *3, this petrol engine realized highest fuel efficiency in the world *4 at 30.5km/l (Japanese 10-15 emission standard, Daihatsu in-house test data).
Adopt the Intelligent Catalyst *5 and an ion control system permit an ultra precise control of the air/fuel ratio, bringing this systems realizes clean emissions level well below the Ultra-Low Emissions Level (U-LEV: emissions level in Japan).
*1 TOPAZ: Stands for "TOP from A to Z". It's the name of Daihatsu power trains and related technologies aimed at realizing top class performance in all aspects including power, ecology and reliability and so on.
*2 Minivehicle natural aspiration engine as of Oct. 2003
*3 DAIHATSU STOP AND GO SYSTEM: a system that stalls the engine automatically by releasing the accleration pedal when stopping and restart the engine automatically by stepping on the clutch pedal.
*4 Except Hybrid cars as of Oct. 2003
*5 The Intelligent Catalyst: a revolutionary development in catalyst technology invented leading in the world by Daihatsu, based on a function whereby Palladium catalyst can regenerate itself themselves during the lifetime of a vehicle preventing degradation without any auxiliary treatment.
2. TOPAZ 2CDDI
Powerful, clean, economic and compact: this 660cc 2-cylinder inline, 2-cycle, direct fuel injection diesel is the best suited engine for next generation compact vehicle.
Adopting overhead valve uniflow scavenging design, a hybrid scavenging system with a supercharger and a turbocharger keeps high performance at all sphere.
Direct fuel injection and a common rail system realize improved combustion efficiency, increase torque at low speed and help to get high fuel consumption.
To make the scavenging of combustion gas in the exhaust stroke smooth, the engine uses four exhaust valves per cylinder driven by double overhead camshafts. The valves themselves are made from lightweight titanium material.
Dual exhaust ports and a newly designed scavenging port keep power high and gas emissions low.
The TOPAZ 2CDDI meets the level of Japanese standards, scheduled to go into effect in 2005.
3. Radar Cruise Control
Besides the standard constant speed control, this system has a laser radar sensor to recognize cars in front of yours and will adjust your car speed like decelerating yours on tracking forward car. The warning on approach activates even if the control function is off.
4. Multi-information DVD Navigation System
This advanced instrument integrates various IT functions in a single device.
Navigation system integrated DVD with touch panel control, CD/MD tuner, hands-free mobile phone, Emergency service
Other possible options include ETC (Electronic Toll Collection system) or a Blind Corner Monitor that helps see around the hard to see corner found at a intersection
Display of cars already in the market
MIRA (2 models)
MIRA AVY
MOVE CUSTOM
MOVE SLOPER
COPEN
MAX
TERIOS KID