Products & Technology
News release
NEW

Mar. 29, 2000
Cuore Production Under Way in Pakistan
Mar. 29, 2000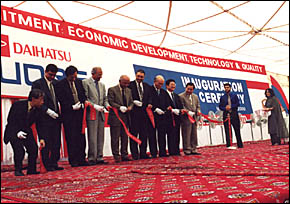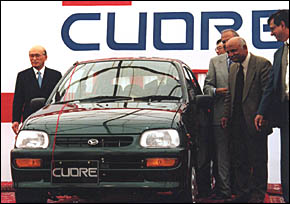 On 25th March, production of the Cuore began in Pakistan, marking the first overseas production project jointly undertaken by Daihatsu and Toyota.
Both production and sales are being conducted by Indus Motor Company. Indus began marketing the Cuore, which is based on the domestic Mira and features an 850-cc engine, on 28th March.
Indus plans to produce 5,000 units this year and 10,000 units per year thereafter. Some engine components and other parts are being supplied from Japan initially, but the local content ratio will be progressively raised. Daihatsu is also providing technical support.
A line-off ceremony was held at the Indus factory on the day production began. President Iichu Shingu led the Daihatsu delegation, while representatives of the Pakistani government, Toyota Motor Corp. Toyota Tsusho Corp. and the House of Habib also attended.
Outline of Indus Motor Company
1. Established
December 1989
2. Location
Port Qasim Industrial District (a suburb of Karachi)
3. Shareholders
House of Habib
41.5%
Toyota Motor Corp.
12.5%
Toyota Tsusho Corp.
12.5%
General shareholders
33.5%
4. Production capacity
20,000 units/year
5. Actual production (1999)
10,196 units (Toyota Corolla, Hilux)
6. Sales network
27 dealers
7. Employees
626