Overseas
News release
NEW

Jul. 01, 1999
Sales of Indonesia's New Taruna Begin
Jul. 01, 1999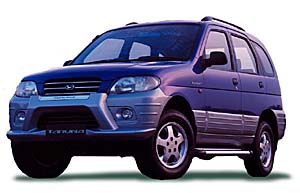 Taruna CSX
Daihatsu has begun sales of a new 1600-cc sport/utility vehicle called the Taruna. The new model was developed exclusively for the Indonesian market and is available only in that country.
Sales are being conducted by P.T. Astra Daihatsu Motor (ADM), Daihatsu's joint venture company. ADM announced the start of sales on 1st July at a Jakarta hotel, with ADM management, local dealers and Daihatsu President Iichi Shingu in attendance.
A compact sport/utility vehicle with the comfort and features of a passenger car, the Taruna is manufactured by ADM using both domestically produced parts and parts from Japan.
It is based on the 1300-cc Terios and includes several key modifications --- the body was enlarged and the engine displacement increased to 1600 cc --- that make it an ideal fit with Indonesian motoring needs. Other distinctive features include dynamic yet practical styling, a high-quality interior, comfortable riding, and excellent driving stability.
The name Taruna, which translates roughly as "young knight" in Indonesian, expresses the new car's youthful vigour, excitement and high potential. It is available in three grades: the standard CS, deluxe CX, and sporty CSX. Prices start at around 90 million rupiah (about US$13,750).
Grade
CS
CX
CSX
Overall length (mm)
4,175
4,175
4,275
Overall width (mm)
1,620
1,620
1,620
Overall height (mm)
1,710
1,710
1,790
Wheelbase (mm)
2,500
Kerb weight (kg)
1,100
1,100
1,146
Seat capacity
5+2
Engine type
HD-C petrol, water-cooled, in-line 4 cylinder, 4-cycle, 16-valve, SOHC
Total displacement (cc)
1,589
Max. output (PS/rpm)
85.7 / 6,000
Max. torque (kg-m/rpm)
12.9 / 3,500
Transmission
Forward 5-speed manual, all synchromesh
Reference Information
An Outline of P.T. Astra Daihatsu Motor (ADM)
(as of June 1999)
Name:
P.T. Astra Daihatsu Motor
Established:
January 1992
President:
Tetsuya Honda
Location:
Jakarta
Capital:
216,000 million rupiah (approx. US$33.0 million)
Shareholder ratio:
P.T. Astra International Tbk 50%
Daihatsu Motor Co., Ltd. 40%
Nichimen Corporation 10%
Employees:
980
Main models:
Feroza, Zebra, Taruna
Production volume:
1996 - 38,200 units
1997 - 36,800 units
1998 - 3,600 units