Products & Technology
News release
NEW

Jan. 27, 1999
Sirion Picked as the UK's Best Value Supermini
Jan. 27, 1999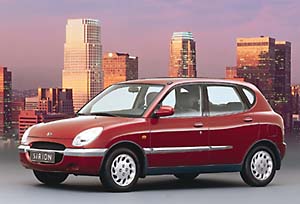 Britain's most prominent motor car magazine, Auto Car, gave Sirion the nod as the nation's best value supermini in its 6th Jan. issue, ranking it ahead of vaunted competitors such as the Peugeot 206 and Renault Clio Grande.

The article concluded, "As a package that combines the peace of mind and reliability of a Japanese car with the style, price and driveability of a European one, the Sirion takes the supermini crown."

Criteria used in the rankings included such factors as price, performance, initial quality, fuel economy, depreciation, servicing costs and equipment levels.

The Sirion, for which exports began in May 1998, boasts a newly developed 1,000-cc, 3-cylinder, 12-valve DOHC engine.

Auto Car lauded the Sirion's superb performance, noting its "sweet-spinning engine and slick five-speed gearbox," and praised its fuel economy, stating that "a combined figure of 51.3 mpg from its 1.0-litre three-cylinder engine is about 10 mpg better than any of its petrol-engined rivals and on a par with many (slower, noisier) diesel models."