Overseas
News release
NEW

Nov. 07, 2007
Daihatsu Launches Light Commercial Vehicle "Gran Max" in Indonesia
Nov. 07, 2007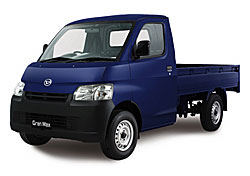 Pick up truck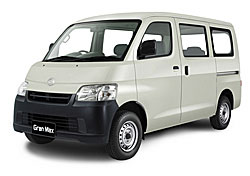 Minibus
DAIHATSU MOTOR CO., LTD. (Daihatsu) announced that it has launched a new light commercial vehicle in Indonesia called the "Gran Max". The aim is to expand the market while meeting various customer needs, in response to increasing demand in Indonesia for light commercial vehicles.
The "Gran Max" will be produced at P.T. Astra Daihatsu Motor (ADM), which is Daihatsu's production base in Indonesia, and will be sold through P.T. Astra International (AI).
Light commercial vehicle users will have a choice between two models of the "Gran Max", the pick up truck and the minibus. The monthly sales target for both models is 2,300 units and the manufacturer's suggested retail prices range between 67 million and 97 million rupiah (approximately 800,000 to 1.2 million yen).
In conjunction with the increasing demand for light commercial vehicles in Indonesia, Daihatsu plans to install a second production line at ADM to increase annual production capacity (based on no-overtime 2-shift operations) from 150,000 vehicles to 200,000 vehicles level by the end of 2007.
The main features of the "Gran Max" include:
Features common in either a pick up truck or minibus
A sturdy semi-cab layout
Ample leg space thanks to a shift lever integrated into the instrument panel
A completely redesigned engine (1.5L DOHC VVT-i and 1.3L DOHC engine types)
Class-leading loading capacity
Excellent cruising stability because of its a long wheelbase (longest in its class)
Minibus feature
The minibus is the only vehicle in its class that features sliding rear doors on both sides.