Overseas
News release
NEW

May. 26, 2005
The Myvi goes on sale in Malaysia
May. 26, 2005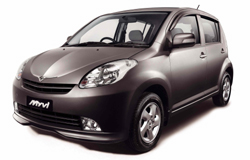 Daihatsu Motor Co., Ltd. ("Daihatsu") and Perodua, Daihatsu's joint venture corporate group in Malaysia, today announced the launch of the Myvi that is being added to the current lineup. On the evening of May 25, Daihatsu and Perodua held a launching event for the Myvi in Kuala Lumpur, with Malaysia's Deputy Prime Minister Datuk Seri Najib Razak and Daihatsu President Takaya Yamada attending.

The Myvi was developed jointly by Perodua and Daihatsu on the platform of the Daihatsu Boon, a compact car sold in Japan, with significant changes made to both the interior and exterior designs to adapt to the Malaysian taste. With prices ranging from 41,200 Malaysian Ringgits (1.14 million yen) to 51,300 Malaysian Ringgits (1.42 million yen), the Myvi is positioned as the top-of-the-line model from Perodua.
The Myvi's main features include:

A stylish, specially designed exterior that expresses dynamism;
tail and stop lamps and door mirrors with turn signals ?both firsts in this category? to create a sophisticated impression;
An instrument panel designed exclusively for the Myvi to add a classy feel to this model;
A split rear seat that permits free arrangement of the cabin and luggage compartments according to the number of occupants and the volume of luggage;
A high-performance 1.3-litre engine with DVVT (Dynamic Variable Valve Timing) that combines high power with low fuel consumption;
A crash safety body designed to protect the occupants from head-on, side-on and rear-on collisions while also minimising injury to pedestrians; and
Advanced safety features including dual SRS airbags and ABS for the upper grades 1.3SXi and 1.3EZi.
Perodua is Malaysia's second largest automobile manufacturing group. Having expanded its lineup since the launch of the Kancil (based on the Mira) in August 1994, Perodua had a 25% share in the Malaysian market in 2004. Daihatsu has made three of Perodua's manufacturing companies into its subsidiaries and is proceeding to strengthen the competitiveness of the group including its suppliers in terms of cost and quality.
Since last year, Perodua has also been assembling the Toyota Avanza, playing an important role as a manufacturing arm in the Toyota group.

About Perodua:
Perodua is the brand name of the 2nd national car in Malaysia. The name was devised by taking the underlined parts of the holding company's name, Perusahaan Otomobil Kedua Sdn. Bhd. Daihatsu is the parent company of the group's three manufacturing-related companies: Perodua Auto Corporation Sdn. Bhd., the manufacturing-related holding company; Perodua Manufacturing Sdn. Bhd., an automobile manufacturer; and Perodua Engine Manufacturing Sdn. Bhd., an engine manufacturer.

Myvi:
A coinage taken from "My Vehicle", "My Vision" and "Malaysian Vision", the Myvi is meant to be a car that provides its users with driving enjoyment and gives them a sense of pride in owning it.
Main Specifications:
Grade
1.0 SR
1.3 SX
1.3 SXi
1.3 EZ
1.3 EZi
Overall length(mm)
3,720
Overall width(mm)
1,665
Overall height(mm)
1,550
Wheelbase(mm)
2,440
Seating capacity (persons)
5
Engine type
EJ-VE
K3-VE
Displacement(cc)
989
1,298
Maximum output(kW/rpm)
43/6,000
64/6,000
Maximum torque(Nm/rpm)
88/3,600
116/3,200
Transmission
5-speed manual
4-speed automatic