Jun. 18, 2003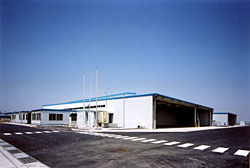 Daihatsu Motor Co., Ltd. has completed construction of a new industrial engine manufacturing plant in Ryuo, Shiga, Japan. An opening ceremony for the new Daihatsu Kagami Plant was held on 18th June, 2003.

Daihatsu industrial engines are highly regarded and see use in a wide range of equipment, including gas heat pumps, lawn mowers, off-road utility vehicles and construction machinery.

Daihatsu has been manufacturing industrial engines at the first Kagami Plant since 1986. Production figures continue to climb, and now the plant operates at full capacity, turning out some 1,500 engines per month. More than 72,000 DM series engines, the plant's mainstay product, have been produced. Daihatsu decided to build the new Kagami Plant, which is adjacent to the older plant, to meet increasing customer demand.

The new facility is only about 4,000 m2 in area, but it incorporates a host of advanced equipment for efficient multi-product, small-lot production. The engine assembly line employs a new Module Conveyor System. The assembly line can be quickly and easily changed over to a new layout, module by module.

Daihatsu has taken a number of environmental-protection measures in constructing and operating the plant, in line with a pollution prevention agreement between the company and the local Ryuo government.

The new Kagami Plant will support Daihatsu's continued production of high-quality engines that satisfy customers around the world.