Products & Technology
News release
NEW

Dec. 13, 2010
Daihatsu Launches the Fully Redesigned Mini Passenger Vehicle MOVE
Dec. 13, 2010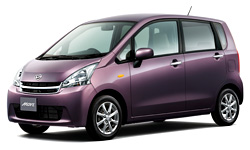 MOVE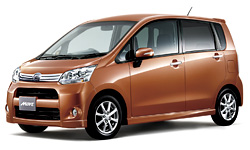 MOVE CUSTOM
Daihatsu Launches the Fully Redesigned Mini Passenger Vehicle MOVE
DAIHATSU MOTOR CO., LTD. (DMC) announced the launch in Japan of the fully redesigned mini passenger vehicle MOVE on December 13.

The MOVE has been popular among a wide range of customers ever since its initial launch in 1995 due to a number of intrinsic features, such as its comfortable, roomy interior, excellent usability and high-quality styling. MOVE has lead the market of mini vehicle through keeping evolving to upgrade stage.

The fifth fully redesigned MOVE aims at the"standard of the next generation spacious mini passenger vehicles", by pursuit of fuel efficiency thoroughly as the gasoline vehicle under the influence of the environmental awareness recently, as well as being highly-balanced in all aspects such as expansive interior, comfort and convenience, basic performance, safety features.
The new MOVE offers the following features
Highest fuel efficiency1 for a gasoline vehicle2 (27.0 km/L)

All naturally aspirated (NA) engines models are eligible for tax breaks (75% reduction) under the Japanese tax system to promote environmentally-considerate vehicles.
Straightforward eco-driving support with advanced fuel efficiency features.

Outstanding comfort and convenience offer the flexibility in various situations
Dynamic exterior and refined interior
Excellent safety performance with advanced preventive safety features
1. As of Dec. 13, 2010; excluding hybrid vehicles; Daihatsu survey
2. X, X Limited and Custom G 2WD vehicles
Monthly sales target for Japan is 12,000 units. The manufacturer's suggested retail price ranges from 1.066 million yen to 1.372 million yen for MOVE and from 1.247 million yen to 1.534 million yen for MOVE CUSTOM.(excluding consumption tax)
Vehicle Outline
Vehicle Performance
Realizing the Highest Fuel Efficiency (27km/L) for a Gasoline Vehicle
Fuel efficiency has improved to the highest level of 27.0 km/L for gasoline vehicle (under the 10-15 Japanese test cycle) through measures that include the adoption of newly developed idle-stop system "eco IDLE", second-generation KF engine and an approximate 35kg reduction in weight1. All models with NA engines qualify for a 75% tax reduction under the Japanese tax system to promote environmentally-considerate vehicles.
1. Compared to the previous MOVE; Daihatsu survey
Engine type
KF (NA)
KF (TC)2
Grade
L, Custom X,
Custom X Limited
X, X Limited,
Custom G
Custom RS
Powertrain
2WD
4WD
2WD
4WD
2WD
4WD
eco IDLE
-
-
○
○
-
-
Fuel efficiency in 10-15 Japanese test cycle
25.0km/L
22.5km/L
27.0km/L
24.5km/L
22.0km/L
21.0km/L
2010 Fuel Efficiency Standards
+25% greater
+20% greater
+15% greater
2005 Exhaust Emissions Standards
75% greater
50% greater
Tax breaks1
75% reduction
-
1. Automoblile acquisition taxes and automobile weight taxes are subject to reduction
2. Turbocharger engine
Newly developed "eco IDLE" System
Standard for X, X Limited and CUSTOM G.
Shutting off the engine automatically to save fuel when the car is stopping as at traffic lights, improve the fuel efficiency by 2.0 km/L (under the 10-15 Japanese test cycle).
Reduce the size and weight as a result of lower exclusive parts for idle-stop system.

The world's first3 gasoline CVT vehicle that has the idle-stop system using a CVT without an electric oil pump.
Equipped with the Japan's first3 idle-stop computer incorporated with an auxiliary power unit, preventing problems such as resetting of the navigation system when the engine stopped.
3. As of December 13, 2010; Daihatsu survey
Newly developed second-generation KF engine
Equipped with the world's first3 i-EGR system that detects the combustion state with the ions inside combustion engine. A large intake of recirculated exhaust gas dramatically reduces pumping loss.
Adopting Japan's first3 plastic electronic throttle body. As well as reducing weight, integrated engine-CVT control ensures the most efficient settings for the driving conditions.
Change the shape of the combustion chamber for more effective use of airflow to improve combustion efficiency, and reduce the mechanical loss by changing other detailed equipment such as the piston shape, oil seals and chain.
The CVT shift control range has been optimized for the new engine.
Approx. 35kg weight reduction and other body-related fuel efficiency measures
In addition to streamlining body shell, reducing the weight of instrument panel and door trim as well as CVT unit, a complete review of all component parts has reduced the weight of the vehicle body by approximately 35kg.
Rolling resistance has been reduced through the use of low rolling resistance tires and improvements to driving and driven components.
Support Eco-driving with Advanced Equipment For Practical Fuel Efficiency
The flash memory navigation system is equipped with an eco-driving support function, providing guidance for enjoyable, fuel-efficient driving on the basis of driving condition analysis, and an energy-saving route search feature that recommends the most fuel-efficient route to the destination. (Standard on X "Limited" and CUSTOM X "Limited". Manufacturer's option on CUSTOM G and CUSTOM RS.)
Adopting the multi-information display with an Eco Indicator and an "Eco Leaf Gauge" that illuminate during fuel-efficient driving (standard on all models except L), and a Blue Eco Signal Meter that changes color (standard on CUSTOM RS).
Equipped with the Eco Drive Mode that is contribute to fuel efficiency driving by ensuring strict parameters for Eco Indicator and Eco Leaf Gauge illumination and controlling air-conditioning system settings when that is switched on. (standard on X, X "Limited", CUSTOM G and CUSTOM RS )
Package & Utility
Outstanding Comfort and Convenience Offer The Flexibility in Various Situations

A comfortable package offering a spacious and extremely quiet cabin and excellent visibility

Ample interior length (2,075mm), the widest cabin (1,350mm) for a mini passenger vehicle,1 and a high cabin ceiling (1,280mm) combine to create a relaxing, spacious cabin in which all passengers can feel completely at ease.
Adopting new shapes of the dashboard and floor panel, optimal distribution of sound proofing material create an extremely quiet space allowing conversation to flow.
Front pillars have been narrowed and their shape optimized to reduce blind spots and ensure an expansive field of view. Rear pillars have also been narrowed to ensure excellent rear visibility.
Advanced comfortable features to meet the situation
The first mini vehicle1 equipped with a "nanoe"2 diffuser (standard on X "Limited", manufacturer's option on all CUSTOM models). "nanoe" technology creates water-wrapped ion particles from air-borne water particles, producing a mild acidity that is kind on hair and skin. It has deodorizing, pollen-removal and sanitizing effects.3
Adopting auto-folding side mirrors (standard on all models except L). The side mirrors fold out when the ignition switch is turned to ACC and fold back when the car is locked from the outside using the request switch on the "key free" electric keycard system or a remote key.
Equipped with a Full Speed Range Radar Cruise Control System which lighten the pressure on expressway. (manufacturer's option on CUSTOM RS 2WD models.)
The flash memory navigation system has a rear view monitor that displays hard-to-see blind spots behind the car when reversing, for example, into a parking space. (Standard on X "Limited" and CUSTOM X "Limited". Manufacturer's option for CUSTOM G and CUSTOM RS .)
Adopting the slide levers that placed behind rear seatbacks make it enable to slide the rear seats from alongside the luggage space, thereby improving loading capacity.
Plenty of easy storage space is provided, including a large-capacity luggage under-box capable of holding two 220mm-diameter soccer balls (size 5).4
As of December 13, 2010; Daihatsu survey
"nanoe" is a trademark of Panasonic Electric Works Co., Ltd.
Panasonic Electric Works survey
2WD vehicles
Vehicle Styling
Dynamic Exterior and Refined Interior
Exterior
MOVE

A refined and dynamic monoform silhouette emphasizes the MOVE's characteristic big cabin and compact nose.
Accentuating the space by the roof peaks at the front end, while the rigid look of sharp edges and the softness of gentle surfaces combine to create an atmosphere of active progress.
Emphasize a wide impression by transverse line linking headlights and grille.
An innovative and modern expression is achieved with eight different colors1 (including two new colors).
1. Includes three colors provided as manufacturer's options
MOVE Custom


Aerodynamic bumper with wide opening, thick hood, round headlights in four-lamp configuration, and rear spoiler are establish a powerful presence.
A quality feel is created by the plated front grille and discharge headlights, the first for a mini vehicle,1 incorporating LED illumination.
Available in seven colors2 (including two new colors) that highlight the vehicle's powerful presence and sense of refined quality.
1. As of December 13, 2010. Daihatsu survey
2. Five colors are manufacturer's options.

Interior
MOVE
Under the theme of spacious and tidy modern cabin, lower the height of the instrument panel reduced and edges effectively used throughout the interior to create room and improve usability.
Lines that extending across the interior create a wide appearance.
The black and beige two-tone instrument panel is part of the interior's unified beige theme used to instigate a sense of refined relaxation.
MOVE Custom
Accentuating the black-toned interior with silver ornamentation imparts a mature premium touch and a feeling of power.
Silver hairlining on the instrument panel and steering wheel create a feeling of luxury.
Seat coverings designed especially for Custom vehicles use lamé thread for a state-of-the-art, quality appearance.
Safety performance
Excellent Safety Performance with Advanced Preventive Safety Features
Preventive Safety
Intelligent Driving Assist Pack (Launched in February in 2011) Manufacturer's option on Custom RS 2WD models).

Pre-Crash Safety System effectively prevents collisions caused by taking one's eyes off the road or falling asleep at the wheel.
Lane Deviation Warning System prevents accidents by sounding an alarm when the car deviates from the road.
Vehicle Stability Control1 that ensures the vehicle's stability during abrupt steering wheel operations or driving on slippery road surfaces
Full Speed Range Radar Cruise Control System

ABS with EBD is installed as a standard feature on all vehicles
1. Also a standalone manufacturer's option for Custom RS grade
Collision safety
Adopts the TAF1 collision-safety body
The interior is based on the concept of SOFI (Safety-Oriented Friendly Interior).
1)Safety Pack (manufacturer's option in the CUSTOM X, CUSTOM X "Limited" and CUSTOM RS)
Front-seat SRS side airbags that distribute and reduce the impact to the head in the event of a frontal collision, SRS curtain shield airbags that cover the front and rear seats
Three-point ELR (Emergency Locking Retractor) seatbelts equipped with force limiters and double pre-tensioning for the front seats(driver's seat)
2)Impact-absorbing materials that inside the pillar garnish and the roof to protect the passenger head.
3)Impact-absorbing steering wheel
The pedestrian injury-lessening body is designed to prevent injuries to the head.
1. TAF: Total Advanced Function refers to a vehicle body with advanced collision impact absorbing functions