Products & Technology
NEW

Jan. 17, 2006
Daihatsu and Toyota Launch New Compact SUV
Jan. 17, 2006
Tokyo — DAIHATSU MOTOR CO., LTD. (Daihatsu) and TOYOTA MOTOR CORPORATION (TMC) announced today the nationwide sales launch in Japan of a new compact SUV sold as the Daihatsu Be-go*1 through the Daihatsu dealers and as the Toyota Rush*2 —through "Toyopet" ("Osaka Toyota" in the Osaka Area) dealers.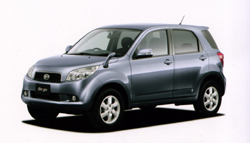 Daihatsu Be-go "CX"
(four-wheel-drive vehicle)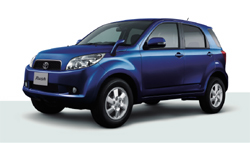 Toyota Rush "G"
(four-wheel-drive vehicle)
In pursuit of being the best in its class, the new model was designed to fulfill its theme of "a tough and casual sport-utility wagon", and was developed as a new genre that merges the enjoyment and drivability of an SUV, the ease-of-use and convenience of a compact hatchback and the fun and functionality of a small station wagon. This SUV is intended to expand the freedom of young men and women who value their individuality.
The vehicle planning capabilities of both TMC and Daihatsu were combined, drawing from Daihatsu's extensive experience in compact vehicles, with Daihatsu in charge of development and production. Daihatsu will supply the Rush to Toyota on an OEM basis.
*1 The name "Be-go" expresses the transformation from "inactive" (be-ing) to "active" (go-ing), evoking an image of an active vehicle that can change people's lives and thinking.
*2 The name "Rush" is intended to convey a sense of energetic vitality and cheerfulness.
Sales Outline
Sales channels
Daihatsu Be-go: Nationwide Daihatsu dealers in Japan
Toyota Rush: "Toyopet" ("Osaka Toyota" in the Osaka area) dealers nationwide in Japan
Monthly sales targets in Japan
Daihatsu Be-go: 500 units
Toyota Rush: 1,500 units
Dealer launch events
Daihatsu Be-go: January 21 and 22, 2006
Toyota Rush: January 21 and 22, 2006
Assembly Plant:
Oita (Nakatsu) Plant, Daihatsu Auto Body Co., Ltd.
Manufacturer's Suggested Retail Prices (Unit: yen)
Vehicle name
Trim level
Engine
Powertrain
Transmission
Price*
Excluding consumption tax
Daihatsu
Be-go
CL
3SZ-VE
(1.5 liter)
Rear-wheel-drive
Four-speed automatic transmission
1,596,000
1,520,000
CX
1,711,500
1,630,000
CL
Four-wheel-drive
Five-speed manual transmission
1,701,000
1,620,000
Four-speed automatic transmission
1,785,000
1,700,000
CX
Five-speed manual transmission
1,816,500
1,730,000
Four-speed automatic transmission
1,900,500
1,810,000
Toyota
Rush
X
3SZ-VE
(1.5 liter)
Rear-wheel-drive
Four-speed automatic transmission
1,596,000
1,520,000
G
1,764,000
1,680,000
X
Four-wheel-drive
Five-speed manual transmission
1,701,000
1,620,000
Four-speed automatic transmission
1,785,000
1,700,000
G
Five-speed manual transmission
1,869,000
1,780,000
Four-speed automatic transmission
1,953,000
1,860,000
*1 Prices for the Be-go differ in Hokkaido, and those for the Rush differ in Hokkaido and Okinawa. Prices listed do not include recycling fees.
Vehicle Outline
New SUV Styling that Combines a Refined Urban Image with Dynamic Strength
With an innovative base in which front and rear overhangs are minimized, a refined and urban image is evoked through beautiful character lines that are rounded to create a sense of flow. The wide front bumper, which conveys a robust image, and the overhanging wheel flares at the four corners of the vehicle express dynamic strength.
Great attention was paid to the stylish interior to create a sophisticated and sporty feel. Based on a basic structure that conveys an SUV's sense of sturdiness, the three, separate gauges trimmed with "edge lights" and attractively located metallic-toned elements, such as a metallic center console and instrument cluster, express sophistication and a sporty sensibility.
Eight body colors, including the newly adopted color, "Titanium Gray Metallic", create a stylish and sporty image.
An Optimal Layout That Achieves Compatibility between Effortless Driving and a Roomy Interior
A minimum turning radius of 4.9 meters makes driving easy in the city, as well as on narrow streets.
On four-wheel drive vehicles, the driver's seat is set at 740mm*1 at the hip to provide a seating position with a high point of view, allowing for easier driving.
Despite compact body dimensions, the vehicle's high-efficiency layout offers a cabin space that accommodates four adults in relaxed comfort and a roomy, 380-liter cargo space.
In addition to the expansive space of 850mm*3 between the front and rear seats, the backs of the front seats curve inward to amply provide comfortable backseat legroom.
The wheels are placed as close to the four corners of the vehicle as possible, providing a long wheelbase and a wide track, thereby achieving excellent cruising stability.
The minimal difference in height between the floor and the scuff plates by the front doors, along with rear doors that open in three-stages to a maximum of 77 degrees, provide excellent overall ease of entry and exit.
Vehicle Dimensions (Four-wheel Drive)
| | | | |
| --- | --- | --- | --- |
| Overall length | 3,995mm | Interior length | 1,800mm |
| Overall width | 1,695mm | Interior width | 1,385mm |
| Overall height | 1,705mm*1 | Interior height | 1,240mm |
| Wheelbase | 2,580mm | Front seat hip point height*3 | 740mm |
| Minimum turning radius | 4.9m*2 | Distance between the front and rear seats*4 | 850mm |
*1 The size is 1,690mm for vehicles equipped with discharge headlights, 1,740mm for vehicles equipped with roof rails and 1,725mm for vehicles equipped with both discharge headlights and roof rails.
*2 The distance is 5.0m for vehicles equipped with discharge headlights.
*3 According to measurements by Daihatsu
*4 According to measurements by Daihatsu
The Cargo Space of a Small Station Wagon Combined with Comfort-enhancing Equipment
The back seats can recline, fold in a 60/40 split, or be easily stowed away. By stowing both the left and right rear seats, an expansive and flat cargo space of 755 liters*4 can be created.
Special features, such as four luggage tie-down hooks, electrical sockets for accessories in the instrument panel and rear cargo space, and water-repellant full-fabric seats facilitate outdoor leisure activities.
Numerous and easy-to-use storage areas achieve optimal use of space, and are located in an overhead console and under each of the two rear seats.
A "key free" electric keycard system with an immobilizer function features a "request switch" that allows drivers to easily lock and unlock the doors and an "engine switch knob" to turn the engine on and off. (This is a standard feature on the Rush G model and a manufacturer's option on the Be-go CX model offered in a premium package that includes a leather-wound steering wheel and shift knob.)
A comfortable and relaxing interior is created through the use of an automatic air conditioner with a liquid crystal display and a pollen-removal mode, which filters out pollen, dust and other impurities from the air in the cabin (standard on the Be-go CX and the Rush G), an air-cleaning technology called Plasmacluster Ions*5, UV cutting glass (on all windows) and a security alarm.
The new vehicle is equipped with a HDD (hard disk drive) navigation system compatible with the advanced "G-BOOK ALPHA" telematics service, which includes services such as provision of optimal travel routes based on traffic-congestion forecasts (manufacturer option on all vehicles in the series).
The Active Winter Pack, a bundle of features for cold climates, features a window seal de-icer and electrically operated, heated door mirrors, seat heaters for the driver's and passenger's seats, and rear fog lamps that are integrated into the rear combination lamps. (This is a manufacturer's option on the Be-go; seat heaters and rear fog lamps are available as a set as a manufacturer's option when selecting the cold climate specifications on the Rush.)
Full-Time Four-Wheel Drive and Superior Drivability
A sophisticated full-time four-wheel drive system, with a mechanical, center-locking differential, offers not only excellent off-road performance but also on-road stable cruising performance at high speeds.
The VSC (Vehicle Stability Control) system (a manufacturer's option) adds sensors to four-wheel-drive vehicles to detect sliding tires on slippery road surfaces and to automatically control the brake-force distribution between the front and rear. In addition, four-wheel-drive, automatic transmission models with VSC are equipped with the newly developed DAC (Downhill Assist Control) function and the HAC (Hill-start Assist Control) function, which are helpful in both bad road and off-road conditions.
The newly developed 1.5-liter engine features high torque at low and medium speeds combined with smooth acceleration performance at high speeds for ample power in all situations.
Engine Specifications
Engine
Displacement
(cc)
Powertrain
Transmission
Maximum output
(kW(PS)/rpm)
Maximum torque
(N-m(kg-m)/rpm)
Fuel consumption*
(km/l)
3SZ-VE
1,495
Rear-wheel-drive
Four-speed automatic transmission
80(109)/6,000
141(14.4)/4,400
14.6
Four-wheel-drive
Five-speed manual transmission
15.2
Four-speed automatic transmission
14.0
*Under the 10-15 Japanese test cycle, as certified by Japan's Ministry of Land, Infrastructure and Transport- The short overhangs and adequate, minimum ground clearance provide excellent off-road performance.
A newly developed, "built-in ladder frame" monocoque body achieves balance between lighter weight and higher body rigidity, offering a comfortable ride.
A newly developed suspension system provides a smooth ride, brisk maneuvering and cruising stability at high speeds, as well as ease of driving in off-road conditions.
A quiet cabin space is realized through the use of sound-absorbent dashboard silencers, the effective placement of sound-blocking materials and doubled seals around the doors.
A High Level of Safety and Environmental Performance
The body incorporates the concept of omni-directional compatibility (collision safety) and meets the requirements of both Daihatsu's TAF (Total Advanced Function) and Toyota's GOA (Global Outstanding Assessment).
The pedestrian-injury-lessening body structure has been evolved to further reduce pedestrian head injuries.
By using an Intelligent Catalytic Converter with a self-regenerating function and excellent cleaning performance, all vehicles in the series have been certified as having emissions levels 50% lower than 2005 standards under the Ministry of Land, Infrastructure and Transport's Approval System for Low-emission Vehicles.
Outstanding fuel efficiency has been achieved thanks to a new engine with precise combustion control, lower overall vehicle weight, improved aerodynamic properties, etc.
In order to increase the efficiency of dismantling major components, improved dismantling labeling is used, and the concept of design for recyclability (DFR), which incorporates an easy to dismantle structure, is adopted for body parts.
With use of lead eliminated in fuel tanks and elsewhere, the new vehicle meets the Japanese automotive industry's voluntary environmental target for January 2006 and thereafter of reducing overall lead usage in vehicles to one-tenth or less of the 1996 levels.
The materials, processing techniques and adhesives used in interior components have been reviewed to limit the volume of VOCs (volatile organic compounds) and lessen unpleasant interior odors.
*1 According to measurements by Daihatsu
*2 According to measurements by Daihatsu using the VDA method
*3 According to measurements by Daihatsu
*4 According to measurements by Daihatsu using the VDA method
*5 "Plasmacluster Ions" is a registered trademark of Sharp Corporation.