Products & Technology
News release
NEW

Dec. 19, 2005
Daihatsu Launches New Compact Passenger Car ESSE
Dec. 19, 2005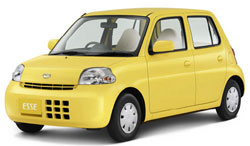 ESSE L 2WD
DAIHATSU MOTOR CO., LTD. (Daihatsu) announced the launch in Japan of the new ESSE*1 compact passenger car on December 19.

As societal expectations for easy-to-drive and economical small cars rise and more people demand stylish lifestyles with an emphasis on informality rather than luxury, the ESSE was developed as the essence of the compact car based on the concept of a simple yet chic and casual minivehicle. The ESSE is a highly economical compact car with outstanding styling that suits the lifestyles of people who value their individuality over fads and enjoy their lives.
The key features of the new ESSE are as follows.
1) Eco (Ecology and Economy)
The use of the newly developed KF-VE engine and "Super Intelligent Catalyst" achieves outstanding environmental performance (high fuel efficiency of 26.0km/liter*2 in the 5-speed manual transmission model and 22.0km/liter in the 4-speed automatic transmission model).
The high fuel efficiency and affordable price of the new ESSE add up to excellent economy.
2) Simple and Smart
The ESSE boasts a casual yet stylish exterior that one never grows bored with and a streamlined and comfortable interior.
The exterior offers a choice of colors that reflect the hues of nature and are harmonized with the interior colors.
3) Easy to Drive
The package makes for comfortable boarding and exiting and easy driving, while the interior is user-friendly and functional.
A newly developed engine provides brisk driving performance.

Plans call for sales of 5,000 units per month in Japan. The manufacturer's suggested retail prices (exclusive of consumption tax) range from 650,000 yen to 1,010,000 yen (the photo shows the 2WD Grade L model with a manufacturer's suggested retail price of 790,000 yen).

*1 ESSE is the Latin root for the English word "essence."
*2 Based on 10-15 Japanese test cycle. Figures reviewed by the Ministry of Land, Infrastructure and Transport.
< Main Specifications >
Grade
ECO
D
L
X
Overall length (mm)
3,395
Overall width (mm)
1,475
Overall height (mm)
1,470
Wheelbase (mm)
2,390
Seating capacity (persons)
4
Engine type
KF-VE
Displacement (cc)
658
Maximum output (kW/rpm)
43/7,200
Maximum torque (Nm/rpm)
65/4,000
Transmission
5 Speed Manual
3 Speed Automatic
4 Speed Manual
Power Train
2WD
2WD/4WD